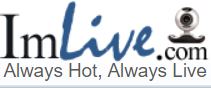 Imlive.com is one of the best adult webcam chat website & was awarded "Best live chat website" by AVN magazine in 2015 and Best Cam platform by Ynot.com in 2016.
Imlive registration process:
The imlive registration process is very straightforward. There is no approval process and it is a free registration. Guest can see some free chat videos and that's all. Only members have access to happy hours (we will explain later below) and private chats with camgirls.
Click here to visit and join Imlive
Imlive billing system:
A member buys credits and it is automatically added to his imlive account.
Imlive accepts paypal. It also accepts credit cards, paysafecard, neosurf and bank transfer (SEPA or SWIFT). It is great that Imlive accepts Paypal because it is an anonymous payment. On the bank statement, Paypal will be displayed and no bank teller or 3rd party can understand for what it was used. A small number of camgirl websites accept paypal.
Imlive billing system is really good as it is easy to keep control on expenses without being forced to register one credit card.
Imlive has discounts for those who buy 30 minutes or 60 minutes block sessions. For your information livejasmin and camcontacts does not provide discounts.
Imlive features:
Imlive camgirl juggylicious
Imlive offers a cam-2-cam feature. It is also possible to have a two way audio and video chat with a camgirl without additional cost. The camgirl may decide to lock the chat room to turn it into a private chat room.
Click here to visit and join Imlive
camgirl quality at Imlive:
We have noticed there are more english speaking camgirls at Imlive than at camcontacts. It is a good alternative of livejasmin or streamate.com for that regard. Camgirls are less greedy than on jasmin and it is possible to have a girlfriend experience in Imlive chat sessions.
Understanding Imlive chat modes:
Regular price / minute: At imlive, the chat sessions are private by someone can get into the paid chat session too. Nevertheless, the camgirl can technically make the room private without additional costs for the first visitor. Most of the time, this is what happens. When you get in a room, the camgirl locks the room to prevent other people to get into the room.
Block sessions: Then, you can also buy a 30 minutes session and save 20% or buy a 60 minutes session and save 30%.
Strip show or vibrator show: camgirls decide sometimes to perform strip or vibrator shows. This is an open chat where several visitors can attend the show at the same time. In this mode, people who possess happy hour credits or regular credits can attend the show. In fact, if you already went to a private chat with a camgirl, you already earned happy hours credits & happy hours shows are free for you. If you don't have happy hours credits you can pay with your regular credits. In the vibrator show mode, you can control the vibrator of the camgirl.
Imlive Discounts:
Some camgirls offer promo codes in their description so that you save 0.20 or 0.30 credits per minutes.
VIP members may obtain a discount by becoming a member of a camgirl's discount club. It is free and it happens when an imlive member often visits to the website. When a member go to a private show, he automatically gets discount club vouchers at some point. A member of a discount club gets .90 credits off for each minute of private shows or recorded sessions. He also gets a bigger discount for 30 minutes or 60 minutes video chat sessions.
I have not see any other adult webcam websites offering such an interesting discount system. For instance, the top member option of livejasmin.com costs 15 credits on a bi-weekly basis.
By the way, even if you are not a VIP member, you can even benefit from discounts if you choose a 30 or 60 minutes session when you connect to a camgirl. If you choose a 30 minutes session, you will get 20% discount. If you choose a 60 minutes session, you will get 30% discount. Consequently, Imlive is made for those who like to have favorite camgirls and who come back to those camgirls.
Click here to access and join Imlive
Related posts: