Some adult chat websites feature beautiful women who are willing to give jerk off instructions (JOI) to men online via their webcam. This requires to be able to get in a private webcam chat session on a camgirl website.
Imlive
Many Imlive camgirls offer a discount for private chats. So, if you are willing to listen to jerk off instructions during 30/60 minutes, some camgirls offer a single discounted price for a 30-minute/60-minute chat session. To find JOI camgirls on Imlive, click on the magnifying glass near search and type "jerk", the Imlive will then suggest "jerk-off instructions". Then, it will return the list of all online cam models who perform jerk-off instructions live on webcam.
The Imlive camgirls can be both experienced camgirls or girls-next-door who perform JOI.
Click here to join Imlive for free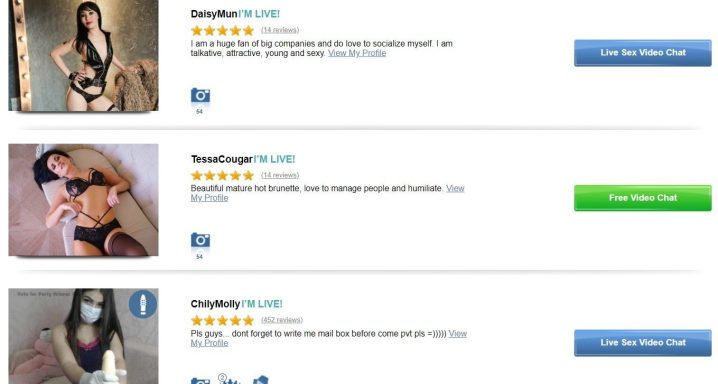 Streamate
We found that streamate could suit men looking for jerk off instruction. On Streamate you can decide to visit a private chat room and optionally activate your webcam for a cam-to-cam. There are two modes: private and exclusive. In the private mode, you enter the chat and other people may also enter the chat. this means that the camgirl may not always focus on you because other people can send her text. In exclusive mode, the private chat is a real one-to-one and no one else can enter the chat.
In a cam2cam, the webcam model can see how you masturbate and comment on your penis. Streamate is a website where there are lots of women who understand and speak English well.
To find a camgirl who give live jerk off instructions on streamate, type in the search field "joi" or "jerk off instructions" and the website will return a list of camgirls who perform jerk off instructions.
Click here to join streamate for free

Camcontacts
On camcontacts, you will also find camgirls who perform jerk off instructions in private webcam chats. To find them after joining camcontacts, click on "search chat hosts" and then click on "fetish" and then click on "jerking off" in the fetish drop-down menu. It will display the list of cam models for Jerk off instructions.
Cam2cam is available on camcontacts.
The camgirls of camcontacts are less sophisticated than streamate camgirls. So, it would be the place of choice for those looking for a girl-next-door or a MILF.
Camcontacts has a cam2cam feature. You can activate your webcam so that the woman can watching you masturbating and she can tell you how to do it.
Click here to join camcontacts.com for free
Stripchat
On Stripchat, if you click on "+ categories" in the left sidebar, you can find the keyword "jerk-off instruction" in the list of keywords. Once you click on it will return a list of live camgirls who are willing to perform jerk-off instruction. Stripchat allows you to first enter in her public chat room to evaluate her. Then, you can click on "start private" > private if you want a text chat without being seen and heard by the camgirl or "start private" > cam2cam, if you want the camgirl to be able to see you while you are masturbating.
Click here to join Stripchat for free