Where are the cheapest private webcam chats with hot camgirls?
After comparing Myfreecams, Livejasmin, Streamate, Imlive, Cams, and camcontacts, I have found that the cheapest cam sex chats with a cam-to-cam feature were camcontacts, LiveJasmin and streamate. Usually, there is a reason why some camgirls are cheap. The camgirls who just started set a low price rate usually. It can also be the camgirls who don't understand English well. So, be aware that it can be no perfect for this price.
LiveJasmin
We found camgirls as cheap as $0.98 per minute by scrolling down the left sidebar on Livejasmin until we found the category price. The category under $0.98 is for group shows (when you attend a live sex show with other people in the chat room).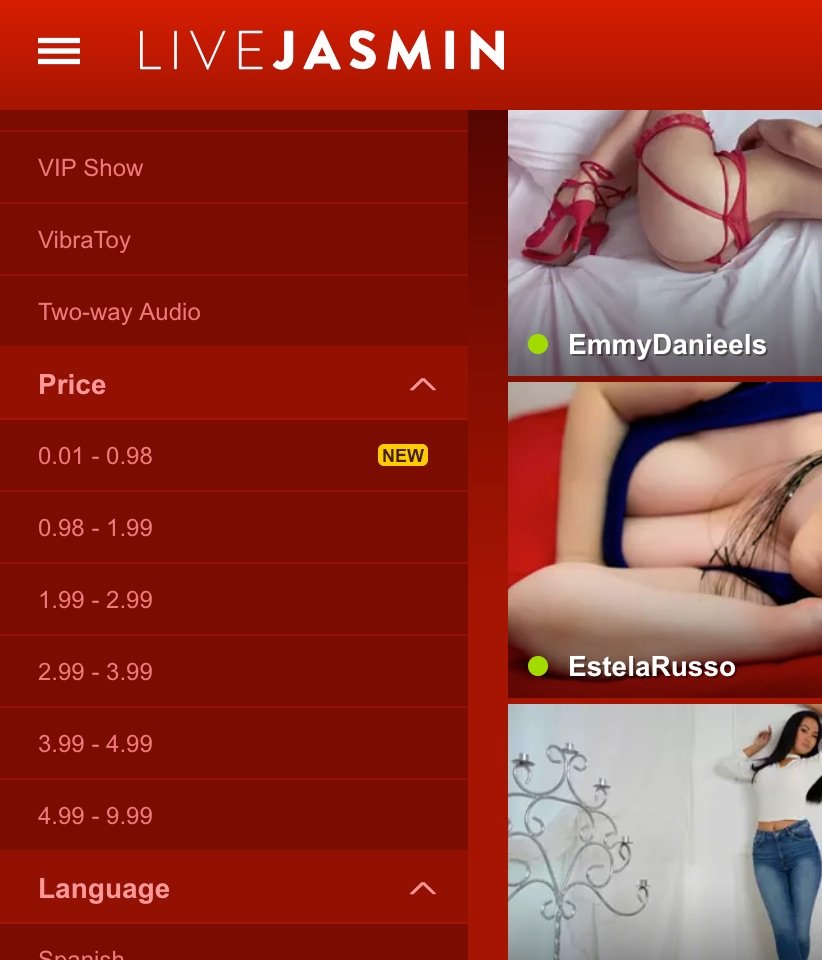 Imlive
We also found Imlive camgirls price rates as low as 0.98 credits per minute. Imlive allows you to display camgirls by price range. Also, some Imlive camgirls offer discounted webcam chat sessions: -20% for a 30-minute and -30% for a 60-minute chat session. Since 1 credit is roughly equal to 1 unit of your local currency. Private webcam chats get cheap after choosing a discounted chat session.
Camcontacts
For an exclusive one to one chat, it is possible to find very cute camcontacts camgirls for a price-per-minute as low as $1.90 per minute. The new camgirls are the cheapest at camcontacts, so click on "search hosts" and then "new cams" on the right side of the search form.
Click here to join camcontacts.com
I spotted many cheap Russian camgirls at camcontacts.com with a price rate equal to $1.90 per minute. Camcontacts is the place for a GFE experience with a girl-next-door type of women. It means that on average at camcontacts you find camgirls with less fake breasts, less makeup, less luxurious dresses. Many of them actually connect from their apartment or their house so that there are less professional spotlights and fancy decor in the back. It is a place where you can find more "authentic" women.
Nevertheless, there is a downside. Many camgirls don't speak English so well. However, if I compare the attitude of livejasmin.com camgirls and camcontacts.com camgirls, I can tell you it is worth a try at camcontacts. Also, I have chosen camcontacts because it is the cheapest camgirls website among reliable adult cam chat websites. With camcontacts, you will not have problems with your bank & you will not have problems with camgirls. We have tested extensively tested camcontacts, and it is a good one.