We found out that more and more camgirls of Stripchat imposed the guests to pay for a fixed minimum amount when entering a private chat or a cam2cam session.
If you click on the interrogation icon, you get the following explanation: The model set the minimum duration to 10 minutes. If you wish to stop the show within the first 10 minutes, you'll be charged the fixed minimum amount. If the model stops the show earlier, you'll only pay for the actual minutes spent on the show.
How much does it really cost?
Let's take an example, if the minimum duration is 10 minutes, you have to multiply it by the number of tokens per minute to know how much it would cost as soon as you enter the private chat.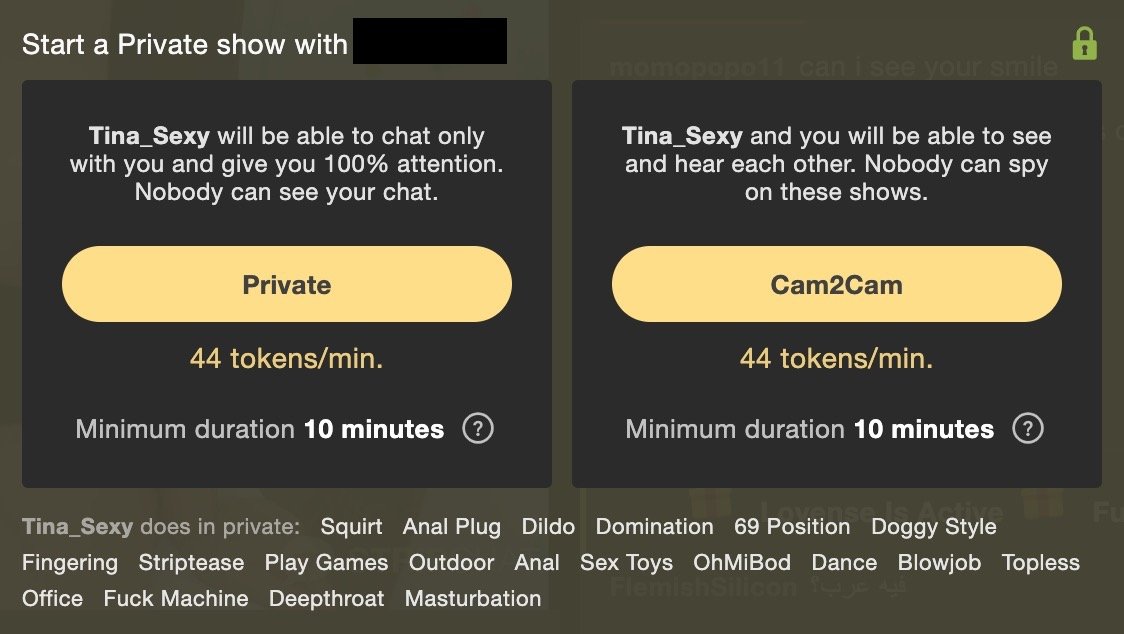 In the following example of the picture above, if you click on Private or cam2cam, it would cost you 44*10=440 tokens whatever the time spent, up to 10 minutes. For example, imagine you click on Private and leave after 5 minutes. You will be charged 440 tokens. Since I live in Europe, it would cost me around 42 euros ($47). So, the real price rate in this case is 8 euros per minute ($9) because I only stayed 5 minutes rather than 10 minutes. If I would have stayed 10 minutes, the price per minute would have been $4.50. So, when a woman set a minimum duration as high as 10 minutes, it is expensive if you leave early.
When you enter a private chat room, there are many parameters that influence the chat. There are many reasons why you don't want to continue the private chat. Maybe, the camgirl will not give you full attention. Maybe, she does not understand English well. Maybe, she does not share your fetish. Maybe, she will not show her face and you really wanted to see her face. Maybe, there is a technical problem.
My advice is:
Don't jump on the most expensive chat rooms of stripchat. According to the feedback I get, lots of stripchat users are disappointed after visiting expensive camgirls. They expected a better service, and they never come back to Stripchat afterwards.
Take the time to look for stripchat camgirls with an acceptable rate.
Take the time to look for camgirls with no minimum duration. You will discover that there are beautiful women who don't set a minimum duration. Those camgirls aren't camgirls with a mediocre service. This camgirl in our example below, performs anal sex, use sex toys, perform stripteases, fisting, squirt, give blowjob, use a dildo and a nipple toy.
When you enter the chat room of a camgirl with a cheap price rate, tell her that her price-per-minute is perfect. With a cheap price-per-minute, it is possible to take the time and stay for a long time in a private chat.
Don't forget that you can display the cheapest camgirls by clicking on a price range in the left sidebar of stripchat. The returns the camgirls in this price range: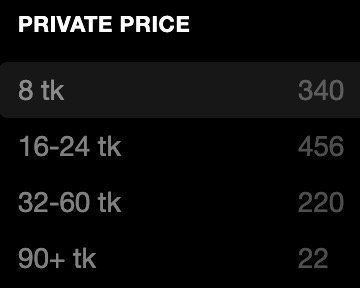 Click here to join Stripchat for free
The outrageous rates:
In the picture below we spotted a private chat that cost $8 per minute with a minimum duration of 10 minutes. This means that as soon as you click on cam2cam, you spend $80. At this price, you can talk to a celebrity pornstar on Streamate. There are tremendous differences between camgirl rates on stripchat. My previous example with 32 tokens meant that the camgirl chat session cost only $2.96 per minute. So, a canyon lies between those two camgirls.
The camgirl who set a high price explain that when they go private they lose members in their public chat. So, they see the private chat as a loss in earnings. However, you can easily see how much tokens a camgirl gets in one minute in the public chat room. I saw that some camgirls didn't get one token in 1 minute of chat. Also, in order to get a good number of tips with they would need to constantly perform live sex shows until exhaustion. They would get less pressured to perform in a private chat since they would get paid whatever happens every minute.
What is a reasonable price?
So, if I take the average prices per minute on Streamate, Imlive, Livejasmin, a reasonable token per minute on stripchat should be 8/16/24/32/44/60. 8/16 tokens for women who don't speak English and need to use a translation website. 24/32 tokens for camgirls who speak out loud in English in an audio chat. 44 tokens for really beautiful camgirls who perform great live sex shows. 60 tokens for porn stars.
Table of US dollars equivalent to Stripchat tokens