First, you must join camcontacts.com which is the camgirl website that features a strip card game. Then, you must find an online camgirl that plays Strip Hilo in the strip Hilo category.
Then, you get in a paid webcam chat by clicking on Strip Hilo (see below)

You will see the camgirl in the window screen and you can chat with her. On the right side, you will see two sets of playing cards, one for you and one for the camgirl.
The deck is made of the regular 52 playing cards. At every round, the system draws a playing card. You have to guess whether the playing card will be higher or lower in rank compared to the previous playing card.
Example of a strip hilo game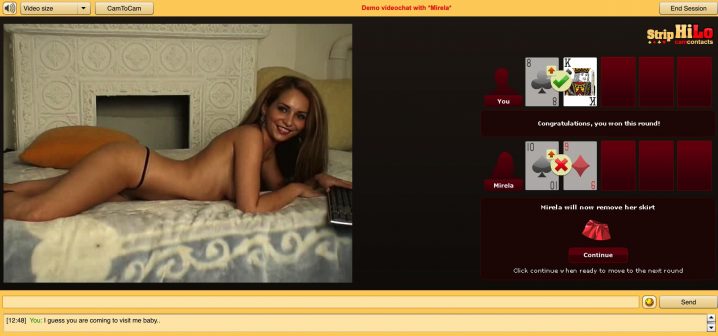 let's take the example of the screenshot above. The system first drew an "8" at the very beginning when the user entered the private chat room. the user guessed that the next playing card will be higher than the 8. The user clicked on the "higher" button. Then during the first round, the system drew a "King". Consequently, the user won since the king is higher than the 8 in the regular 52 playing cards deck. On the other hand, when it was the turn of the camgirl, she also pressed the "higher" button, the system randomly drew a playing card and it was a "9." Unfortunately for her, the 9 is lower than the 10, and she lost. Thus, she had to remove a piece of clothing. Then, there is a new round until there are no clothes left to remove. At the end, you may continue chatting with the camgirl or play again.