I chose two camgirl websites for 2 reasons.
Those two camgirl websites feature the cheapest webcam chat sessions for a long private chat.
They allow users and camgirls to exchange personal details.
Most of the single women on camcontacts come from Ukraine and to a lesser extent from Russia. Sometimes, it takes time to chat with a camgirl because they use a translation website. It is normal. Ukraine and Russia are the two countries with the lowest English proficiency in Europe. Few people speak and understand English in Ukraine and Russia. If you had joined an international dating agency in those countries, the problem would be exactly the same, you would need translators. When you use a cam model website, don't forget there is no other expensive intermediaries. So, an adult chat website is the most realistic way to reach Ukrainian and Russian women online without spending a huge amount of money in intermediaries like a international dating agencies. On those dating websites, what you see is what you get.
A rule of thumb for dating on camgirl websites. Never suggest to chat on Skype, WhatsApp, telegram, Facebook while you are in a private chat session on a camgirl website. Also, I encourage you not to rush. If you chat with many camgirls, you will interact with online predators at some point. So, be careful and choose wisely.
Dating a camgirl on camcontacts.com
Camcontacts.com offers sexual and non-sexual camgirl categories. Note that you are not forced to ask camgirls in the sexual category to perform a live sex show. You may just chat with her if you want.
We didn't find anything in the terms that would prohibit the exchange of personal details on camcontacts.com. Be aware of that a clause states that performers can't promote a real-life encounter. There are two camcontacts categories for dating camgirls: "long-term/marriage" and "glamour". For your information, I already sent my email address to a camgirl from camcontacts, and she wrote me back.
Click here to join camcontacts.com for free
I encourage you to extensively use the advanced search engine of camcontacts (search chathosts) to find women according to your criteria. Browse offline cam models, add your favorites women to your preference, click on "faborite and alert" to receive an email when a woman is online.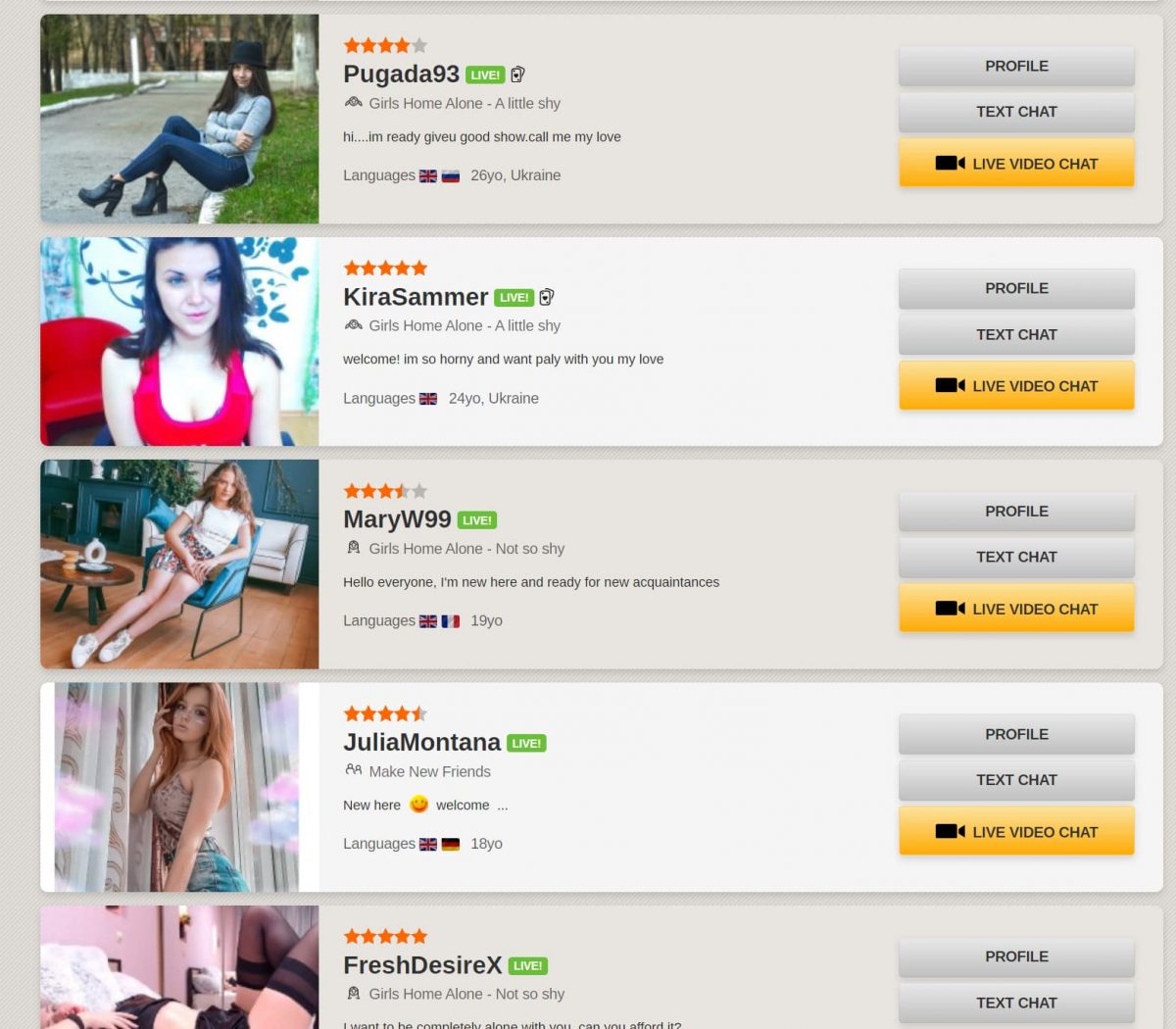 After my investigation I have found that the most interesting camgirls were in the Glamour, not so shy, little shy category. I have spotted antipathetic, weird women in the category long term/marriage and also dungeon and fetish. I am also flip-flop about the make new friends category. It appears that every category attracts women with a different mindset. The most dateable women are in the categories that I have mentioned at the beginning of this paragraph.
You may wonder why I am so opiniated about those categories. In the long term/marriage and in the make new friends categories, I have spotted lazy gold diggers who were looking for a financial provider without learning English. There were also women who weren't interested in men. They appeared to be asexual or lesbians. In the dungeon and fetish categories, those women are not interested in dating a man.
Dating a camgirl on Imlive
Once again we didn't find anything in the Imlive terms of service that could prevent camgirls and guests to exchange personal details. Imlive has a non-nude "friends & romance" category. However, I would advise the category "shy girls alone", if you want to date single Russian and Ukrainian women on Imlive. Apart from this category, you can date any Imlive camgirls.
We know a guest who already exchanged his email address with an Imlive camgirl. Imlive camgirls usually understand English better than camcontacts camgirls. However, don't expect all women to be fluent in English. Expect to type on your keyboard and wait to be understood as they use from time to time translation websites.
Click here to join Imlive for free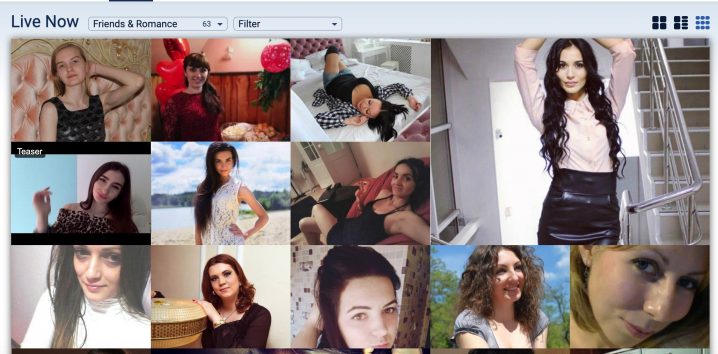 I don't advise you to be adventurous and try any other camgirl sites. There are many websites where the prices per minute are really high. You could get addicted to those websites and spend a lot of money without any success.
Camcontacts and Imlive are the two websites with the best price / quality ratio for dating. Since you want to date women online, you must spend little money to be able to chat for a long time. You can't go to a website where the price per minute is $5/minute because it would mean $300 per hour. This would be too much money because you can be unsuccessful and you could waste your money. camcontacts and Imlive offer the cheapest prices per minute for a long private chat session.
So, it may look difficult to meet someone on camcontacts or Imlive sometimes because of the language barrier and the bad behavior of some women but I think there are no better places to date women.
The privacy issue
If you are concerned about your privacy, I have some things to say about it. At the beginning of a chat, you don't know if you can trust a woman. So, it is not advised to share personal information about yourself right from the beginning. For example, you are not forced to tell you city of residence. You can just mention your state of residence or your country at the beginning.
Consequently, it would be advised to speak aloud when you want to transmit sensitive information about yourself. You can spell a bitly link (shortener) which could lead to a page with your email address for instance. I think that if you would provide the camgirl a simple domain name which would return a page with your email address, you could avoid being in trouble because of sharing your email address. It is a tip for the website where it is not authorized to give your email address.
You must create a disposable email address if you want to share this email address with several women online.
Adult webcam chat sites where you can't date women
Dating a camgirl is impossible on livejasmin.com and streamate.com 
On Livejasmin.com, the problem does not come from the terms of members/visitors but the service agreement of models. It states that:
I further declare that I understand that any physical contact or exchange of contact details with Members/Visitors of the Websites or contacting them in any other way is prohibited. Any breach of this obligation will immediately result in termination of this Services Agreement.

https://modelcenter.livejasmin.com/en/services-agreement
In other words, a Livejasmin webcam model takes the risk of losing her job, if she tells a member that she will send her an email. This explains why models will tell you they aren't interested if you give them your email address or your telegram account (which is more discreet in a text chat). Quite interestingly, it looks like users aren't banned from giving out their personal details. We didn't find such a ban in the terms of service for users.
On streamate.com things are much more serious for users. They take the risk of being banned from streamate.com if they decide to give out their personal details to a model.
This includes but is not limited to you may not use our Services: (1) to exchange any personal contact information with one of our performers or to have any communication with one of our performers which would in any way result in any type of face-to-face meeting involving you and one of our performers; or (2) to discuss in any way with one of our performers any type of transaction whatsoever involving use of any other service or method of interfacing with one of our performers, such as use of any other Internet based service or product. Any violation of these prohibitions will result in immediate cancellation of your membership account with us, and you will be blocked from ever using our Services in the future.

https://www.streamate.com/docs/terms-and-conditions?langchoice=en
I am surprised that it is possible to prohibit people to exchange personal details online.
How to avoid gold diggers
Some camgirls are only interested in your money. They may pretend to be flirty, and they may not be interested in dating. Conversely, there are women who really want to date you. How can you make the difference?
A gold digger will quickly ask you what your job position is so that she can evaluate your income. She may also want to know if you live somewhere on your own. She wants to know if you rent your accommodation on your own. She may also ask you if you travel a lot to know if you have enough money to travel abroad.
Gold diggers beg for you to come in a private chat. They want you to spend as much as you can.
How to avoid psychos?
Some women are upset as soon as you ask her a simple question. For instance, if a woman starts to say: "what's your problem?" after You ask her if she watched porn, you should leave. She should be polite as you pay for the chat. This gives you the right to ask her such a question. Some women overact even if they are chatting remotely. They forget they are service providers.
After chatting with several women, you will discover that there is a wide variety of personalities on camgirl websites. I must admit that I have noticed that some women were toxic. Those women are single because no men want them. On the other hand, there are sweet, respectful, and nice women. However, it is not written all over their faces. So, observe the attitude, the speech, and the body language of those women before deciding.
Beware of camgirls who prefer women
Some camgirls pretend to be heterosexual but prefer women. I suspect some camgirls to be lesbians. In other words, I don't think these women are interested in men. When a woman tells me that she is bisexual and that she likes to watch porn with women only, it raises a red flag. Then, when a woman tells you that she fantasizes about sex with a woman, it is a second red flag. Be aware that some women prefer women and pretend they like men. So, don't waste your time chatting with a lesbian woman.
That's why it is a positive thing when a camgirl speaks about her past boyfriend and show interest in men.
My observations
camgirls who are wife materials work less than 1 year as a camgirl. Then, the percentage of interesting women tremendously drop as their seniority increases. The most interesting women have a short camming career.
The best women on camgirl websites have a similar profile. They are respectful, sympathetic. They don't beg for money. They don't speak about money. They respect your privacy.
When a camgirl sends you a message in your inbox via the messaging system of the website, saying that she spent a wonderful time with you without asking you to come online, that is a good sign. On the other hand, be cautious with camgirls who send you greedy messages like "I am waiting for you", "I want to see you online."
I am going to paste an example of such a message below. So, learn to detect messages of gold diggers.
I'm waiting for you here! Hello my dear! how is your mood? do you want to have fun with me? what are you doing now? what are your plans for tomorrow? I'm really looking forward to your call) your Kristina

generic Message that should raise a red flag
It may look discouraging at some point. You may find that there are too many gold diggers online. The most interesting women don't want to bother you and never send you messages. Most of the time, gold diggers are the ones who send you spammy unsolicited messages on camgirl websites.
Don't give your real name and your real email address to a woman online. Then, tell your real name when you know that the camgirl is trustworthy.
So, if you take the time to filter the camgirls, you will stay out of trouble.