Welcome to the world of sexual fetish and sadomasochism. We met an online money slave and asked him several questions about his relationship with his online domina. The financial domination is a sexual fetish between consenting adults.
They meet on camcontacts which is a website where men can find a financial dominatrix to satisfy their desire for submission in a private webcam chat session. In this interview, we talk about Claudia Gabriela (Mylesaway2). You can visit her chat room by clicking here.
Click here to join camcontacts.com for free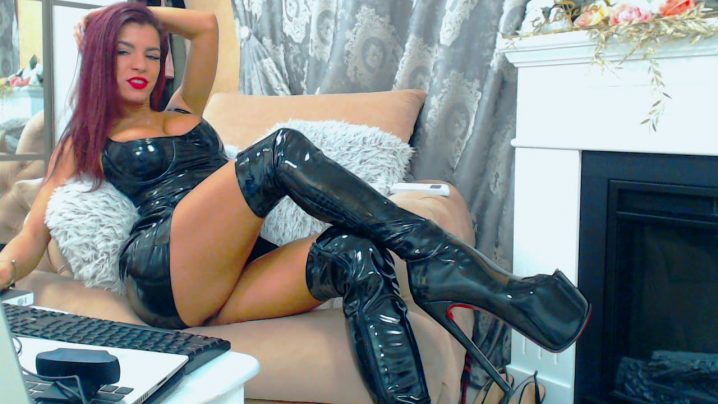 Why do you prefer glamour models rather than fetish models on camcontacts?
Well, I wouldn't say I prefer either. It has not too much to do with the category. As a submissive I prefer hot, strong, smart, powerful, naturally dominant women. I think glamour style goes very well with female domination and financial domination too. There are dominant professional models in glamour category too and actually in any category. And also you can find women in fetish category who are not genuinely dominant, just acting… It't not the category what's important but the person. Also I'm weak for bratty glamour style and in glamour category you really can find models who will blow your mind with teasing, seduction, confidence and a body like a fitness model. Also glamour style is not far from sensual domination that I also like very much. Goddess Gabriella is a perfection and she is my weak point from so many aspect that I couldn't do anything but surrender. In a couple of months she enslaved me and made me addicted to herself, let alone how she raped my wallet. She took more in a few months than anybody else before.
Then, I would like to understand your sexual arousal. When Gabriella plays with you, is it a prerequisite for you to get an orgasm, or can you get an orgasm while Gabriella treats you bad?
It is depending on what you mean on "bad". Foreplay, edging and even a ruined orgasms for Goddess Gabriella are all hot, exciting and addictive experiences. She fully understands all my weak points, she can easily tease me into submission any time and she is very smart to feel how she can dominate me. About orgasms and sexual arousal, I'm aroused by obeying her and I have an orgasm and such orgasms she wants me to have. There's no higher sexual arousal than have an orgasm following her instructions, and to be honest even edging for Goddess Gabriella is addictive. Tease and denial games are also sexy. It's power exchange after all, she tells me when and how to have orgasms. If it's a ruined orgasms in the bed while my wife sleeps besides me, then it is.
Do you get horny when gabriella asks you to pay?
Of course. I have many fetishes, but financial domination is one of the strongest. I always get horny when she teases me and forces me to surrender. When she wants a bigger amount, sometime I say oooh my god, it's too much, but sooner or later she always finds her ways to coerce me into paying. I have no chance, she owns me and as she gets to know more about my weaknesses she can tease me even more.
Is only an online desire or would like Gabriella to use your credit card in the real life. Would you like to be brought to an ATM by Gabriella and asked to withdraw as much as you can until your cards be denied?
Absolutely. Actually she maxed out 2 of my cards online already. It would be my dream to be wallet raped by her in real life. It would be so much intense findom experience. And yes, she could easily max my cards out and I would not be able to resist. She would just look into my eyes and say: "Give me your cards loser! And now the PIN, tell me loser!" and of course I would obey.
Here in France, I saw men who liked to crawl to the ATM with leash around their neck held by their mistress. Would you be in this kind of fantasy?
Yes, it's quite a powerful fantasy. I love it. However it might be beyond my boundaries. It is a mixture of financial domination and public humiliation. The latter is also very hot and exciting, however in my case it is just a fantasy (however some forms of less intense public humiliation I would be happy to try). I don't think I would have the balls to get publicly humiliated so strong. On the other hand, knowing how powerful she is just online, I can imagine that Goddess Gabriella could break me in real life and could coerce me into this with her female power. In real life I'm sure the experience is even more intense and I would be significantly weaker.
you mentionned that you had other fetishes, can you describe them? (background of my idea: i wonder if being a slave is all about submission or other things)
I can tell about my experience only, but I think it's more than submission. You can have various weaknesses, fetishes that could be used by a domme to make you obedient. It's never just purely submission I believe. In my case I like sensual domination, tease&denial, JOI, CEI, homewrecking, financial domination, body worship, fit and muscular women, verbal humiliation, boot worship, high heels, bratty and a little evil attitude, etc… But that's just me. Goddess Gabriella knows all these weak points very well and she can control me easily.
quite interestingly, you are not into SPH (small penis humiliation)?
nope i am not
She took 6500 euros or dollars from you?
US dollars

well, i spent 6500 on her alone, but i am a money slave for very long time. all in all, i spent tens of thousands.
In your real life, are you a manager? I have heard from several domina that according to them "the more a man was powerful in real life and the more he was likely to be a total slave." Does it apply to you? Are you bossy in real life?
I'm not a manager, but I understand this concept, and it definitely has a rationale. There are many slaves around who are in leader positions in their career. I'm not one of them, but otherwise in many areas of my life I'm confident and even dominant. Sexuality is the exception, I'm totally submissive when it comes to that.
Are you also sexually submissive with your wife?
I wish I could be, but I can't, she is not dominant, actually she is submissive
Do you know dominant wives among your friends and are your aroused by those women?
It's a very good question. Not too much, but I believe yes, I have seen colleagues, acquaintances, etc… and I can imagine some of them are pretty dominant. But it's easy to fool yourself. When you see a woman, then many times you imagine her to be that type of personality as you desire. So, you can simply think someone is dominant, just because she looks like that, but in many cases if you take a step close you will realize these women are not always dominant. Same goes for models on camsites too, many of them are not geniune, and just acting, but in real life they like dominant men.
Do you have a budget for your domina or is sky the limit?
I spent a lot over the years, I have some manageable debt, but actually almost no savings. I spend on all normal things as all of us do. I live, travel, even spending on vacations, but all extra that I could have saved in years is now on the bank accounts of dominant, bratty, powerful, hot girls.
Yes, many times I do these, edging a lot. But she decides when I am allowed to have an orgasm. She can keep me sexually aroused any time and very easily. She really is my weak point. I worship her body and smart dominant mind too.
apart of this, I wonder how do you get sexually satisfied. Do you masturbate and jerk off when you talk to Gabriella? Do you masturbate after a chat session thinking about Gabriella?
Yes, many times I do these, edging a lot. But she decides when I am allowed to have an orgasm. She can keep me sexually aroused any time and very easily. She is my weak point. I worship her body and smart dominant mind too.
She doesn't need a chastity device to control my orgasms. However it happened a few times that I helplessly exploded into my underwear even if I didn't want it. She is so hot, just look at her pictures. Isn't she a perfection?
For sure, she has great body. Do you jerk off without touching yourself?
No, I can't do that. I must have a touch. If this is possible at all, then Goddess Gabriella would be the only one who could make me doing this even without a touch.
Does she tease you and then, forbid you from jerking off? Does she ruin your orgasm?
Yes, she can tease the hell out of me. She allows me to jerk off, but also I edge a lot, without orgasm. I love tease and denial. And yes, she humiliates me by coercing me into ruined orgasms. But she is so hot that even these ruined orgasms are so good. She owns and controls my sexual life.
Also, if it would be a real life situation, would you like to be Gabriella slave? In the SM relationship, some dominas have several slaves to clean their house, cook for them, clean her clothes, prepare her hair…
Yessss! Yessss! It would be like a dream.
is blackmail also a sexual fetish of yours? I have heard that some men were turned on when their domina decided to publicly share their love for SM. For example, would you be turned on if Gabriella would decide to publish your exchange of messages?
Blackmail fantasies are very exciting. It is sort of a power exchange game, an extreme way of it and requires very high level of trust between a goddess and her slave (or requires an extremely weak slave). In my case it is similar to harsh public humiliation, it's beyond my limits. I like to see as a domme blackmails and exposes other slaves, I like to fantasize about it. It makes me excited and horny, but at the same time, if I was the subject, that would make me more scared than excited. So it's interesting, I like it, but I like to watch it only but not being a victim of it. Also even if I am submissive and I love female seduction and power exchange, I would like to keep some control. It might sound weird that a submissive wants to have control, but safety is important. As in real life femdom sessions, you (normally) have a safe word to say you reached your limits. In blackmail this button, this safety action gets out of your hand. On the other hand if Goddess Gabriella publishes our messages it's not blackmail, she did it a few times, just look into her camcontacts gallery, it's anonymous. And yes, this kind of anonymous exposure is hot. It's part of the humiliation fantasy, others see how easily she dominates me into surrendering.
Also, are you into sexual coercion? For example, would you be turn on if mistress Gabriella would hold you by the balls?
Yes, I would love to be her sex toy that she can use any way she wants. I would serve her and most probably she could get me into doing such things that I wouldn't do otherwise. I would love to be just a tool, a toy that she uses for her satisfaction. Even just thinking about it makes me horny. I am sexually addicted to her. Even if it's remote, she already holds me by my balls.
what do you think about facesitting and chastity belt?
I love both, if I just imagine Goddess Gabriella sitting on my face I get a boner. It would be like in heaven with her. Also if I had the chance to be her slave in real life 24/7, I would love if she put me into chastity belt. It's a perfect form of total sexual control.