Is it safe to show you on webcam to a camgirl on cam sex chat site?
Can a sex chat website record your webcam streaming?
After several years of using adult webcam chats, I have never been blackmailed. I do think that the adult webcam chat websites I have talked before are rather relentless with camgirls. They easily close camgirls profiles when customers complain about one of them.
Can a camgirl record your webcam feed?
First of all, no adult webcam chat websites allow webcam girls to capture their screen when they are online. I think about Imlive, Camcontacts, Streamate, Livejasmin, Stripchat, Chaturbate. I know a situation where a camgirl tried to take pictures of the screen with her smartphone on Livejasmin. The adult cam chat site closed her account instantly after being notified by the customer.
If a camgirl would decide to record all their video sessions with customers, the hard drive would be full within two days because it takes a lot of storage to record videos of screen. Also, their computer CPU would suffer from the heavy load of recording software and the webcam chat session would not work well.
First case: camgirl directory without terms of service
There are directories of webcam models that you can find on the internet where cam models publish their ad. Since they aren't contractually bound to a website term of service, they could take pictures of you or record your webcam feed without fearing being kicked out from the directory website. There is also the situation where the cam girl gives her email address during a chat on an adult chat website and then suggest to see each other on skype. On Skype, you are not protected by any terms of service. The camgirl directory without terms of service is the situation that is the most dangerous for your privacy and your anonymity.
Second case: camgirl at home
When a cam girl works from home, even if she is contractually bound to the adult chat terms of service, she may install a capture software to record the customer without the website team to be aware of it.
Third case: a cam girl working for a studio

The safest situation is to choose a cam girl who works for a studio. A studio is a company with a legal status which provides computer, clothes, and a room to the webcam model. You can find it out by looking at the decor behind the camgirl. When you look at her room, you see professional lighting, luxurious decor, no personal items against the wall. It is a colorful, super tidy place just like on the picture below.
When a camgirl works for a studio, You can't be recorded for several reasons:
The computers are locked by the studio company just like in an office. They can't install any capture software. Furthermore, the computer is owned by the studio.
The studios do everything in their power to be in compliance with the terms of service from the adult webcam chat websites. No adult webcam chat websites allow to monitor or take picture of customers.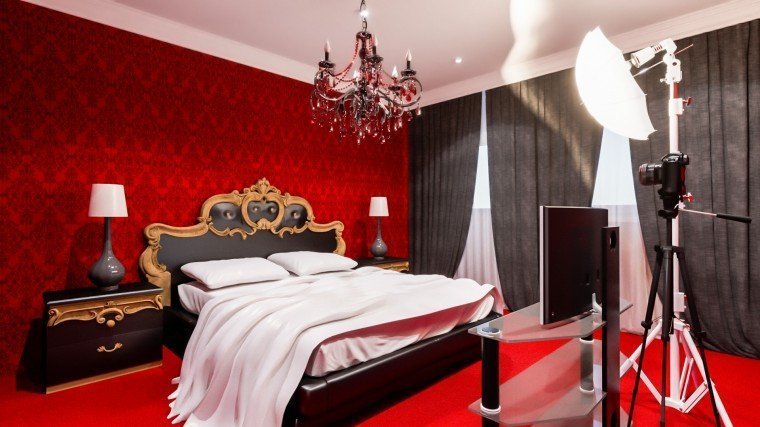 If you are concerned about your privacy, I encourage you to choose Livejasmin. At LiveJasmin, the terms of service forbid studios to spy on a private chat session using a screen sharing software like TeamViewer.
Click here to join Livejasmin for free
Beware of smartphones:
Out of 8 years of using webcam services, I have seen once a cam girl who tried to take a picture of the screen with her smartphone.
If you see a camgirl handling her smartphone, an Ipad, or a tablet in a way that makes you think she wants to take a picture of the screen, leave the video chat session immediately and send a message to the support team of the website.
For sure, if a camgirl is far away from the webcam and if she does not have a smartphone close to her, it is safer.
If there is something you would like share join our forum