Sometimes, you enter a public chat room on streamate or Livejasmin and for no reason after some seconds or minutes, a message pops up stating that you have been kicked out from the chat room. The message can be something like: "You've been disconnected."
This means that the camgirl decided to exclude you from her chat room. Streamate and Livejasmin camgirls can kick out users from their public chat room. It is a common practice. I guess that camgirl chat users finds this practice annoying and disrespectful.
This happened to me several times on Streamate and Livejasmin:
Once, on streamate.com, I was reading the tags of a streamate model on her profile page that other users left. I didn't type anything in the chat area. After 1 or 2 minutes, the camgirl decided to kick me out. I saw a message saying that I was disconnected from the chat room.
Another time, I was looking at the pictures of a camgirl on Livejasmin, and she decided to kick me out from her page during her live stream. The camgirl said "bye bye" and then, the message "you've been disconnected" appeared.
I think those camgirls think that once customers enter a public chat room they fall in love at first sight, and press the private chat button right away. However, it does not work like this. Livejasmin and Streamate users want to read the profile description of the camgirl, they want to see her pictures. They may also check the price per minute of the camgirl first and think about it because money does not fall from tree. This process may take a long time. A user may add a camgirl to his list of favorites and come back later.
I have never seen a camgirl on chaturbate, camsoda, stripchat, Imlive kick out a user for no reason.
Imlive is the best alternative to Streamate and Livejasmin for those who look for a private chat. Imlive does not provide live sex shows in public chat room. So, when you see a webcam model in a public chat room, she is available for you and once you press the private chat button on Imlive, you instantly enter the private chat room.
Click here to join Imlive for free
Alternatively, you can try stripchat. However, on stripchat, camgirls perform like sex shows in public chat rooms. This means you have to wait for the camgirl to finish her live sex show before requesting a private chat. Also, sometimes, a camgirl may want to get a maximum of users in her public chat room to get the maximum number of tokens possible. In this case, she may not accept a private chat session.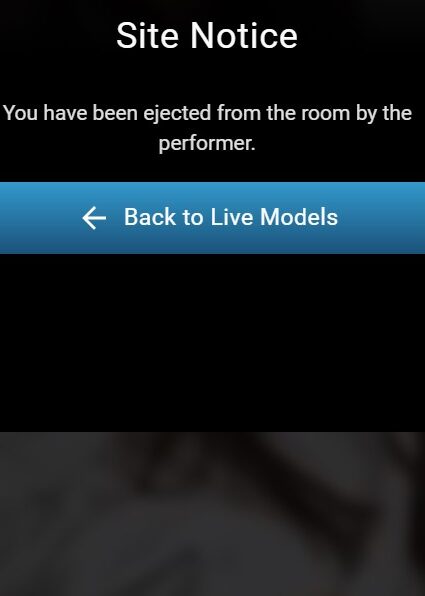 Click here to join Stripchat for free
Click here to join Imlive for free
I think that camgirls don't understand that the more users they will get in their chat room and the more likely one is going to enter the private chat.
If you are looking for an alternative to streamate, click here