Camgirl comparison
Livejasmin is packed with beautiful cam models from Romania, Ukraine and Russia. Most of them work for a studio. the camcontacts cam models maybe on average less beautiful than Livejasmin. Many camcontacts camgirls are independent. Camcontacts camgirls mainly come from Ukraine and Romania.
The liveJasmin webcam video stream quality is always high. This is due to the fact studios use professional internet connection, photographer spotlights and a HD webcam.
On the other hand, The cam model of camcontacts.com connects from home. The video stream may be choppy because the internet speed is slow, it may have no lighting and they often use the SD webcam of their laptop. That's because camcontacts cam models are often girls-next-door who are looking for a way to earn money from home. On the other hand, Livejasmin cam models work for a professional studio that provides computer, lights and among other things to operate.
There is a significant number of LiveJasmin cam models who underwent plastic surgery to have bigger boobs and lips. Camcontacts cam models are often all natural.
Click here to join Livejasmin for free
Click here to join camcontacts.com for free
The English level issue
On average, Livejasmin cam models have a better english proficiency than Camcontacts cam models. There are more Ukrainian and Russian cam models on Camcontacts and there are more Romanian cam models on Livejasmin. Meanwhile, on average Romanian cam models understand and speak English way better than Ukrainian and Russian women on average. That's why camcontacts models are less likely to understand English than Livejasmin cam models.
Webcam chat application comparison
The LiveJasmin interface and the camcontacts do the same job when it comes to a cam2cam. As per October 2020, Camcontacts.com still uses Adobe Flash for cam2cam. This means that it is a bit difficult to activate it as all the browsers do everything in their power to avoid using Adobe Flash.
Livejasmin has a nice feature, it allows you to easily activate your microphone audio without activating your webcam video. So, On livejasmin, you can easily chat with a camgirl without showing your face. You just have to click on the microphone icon. On camcontact, you must point your webcam downwards or put a cupboard on the webcam lens to prevent from being seen by the camgirl.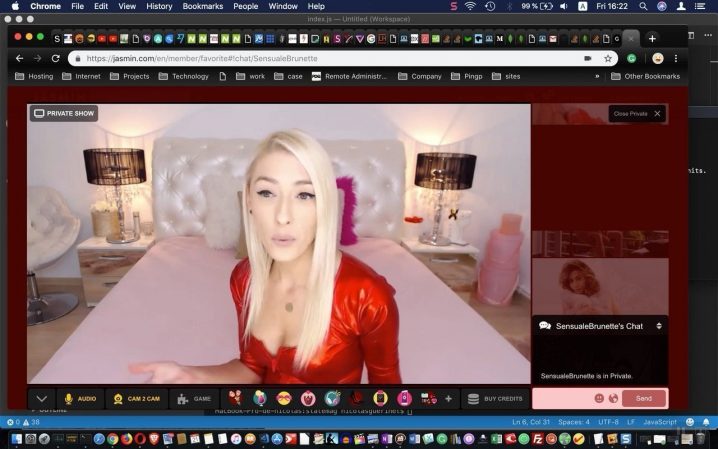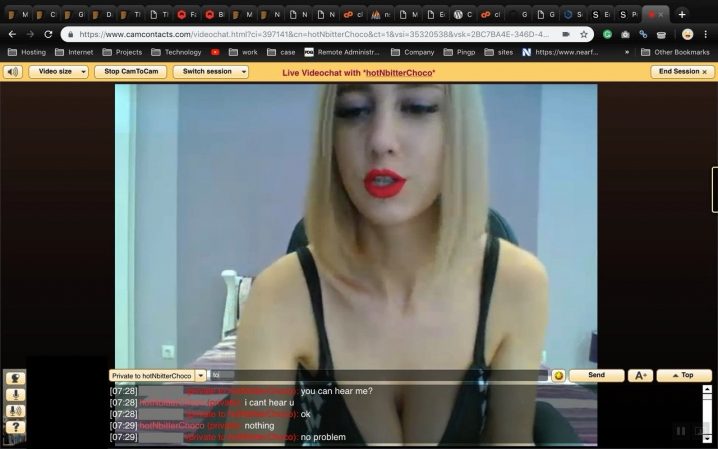 Price rates
Camcontacts is cheaper than Livejasmin. However, we can't simply compare prices out of context. As I explained before, some camcontacts.com camgirls don't speak english well. This means they have to copy your sentence in a translation website, translate it into their native language, answer in their native language, translate, and the copy the result in the text field. It is a long process that takes much more time than speaking out loud with a woman or being understood by someone who speak and understand English.
My opinion
Camcontacts.com is good for men who are looking for all-natural cam models. This comes to a price. The guest should accept to wait because the cam model has to use a translator to understand the guest. Also, the video streaming quality may not be of high quality. This is good if you feel adventurous. If you don't like sophisticated women, if you want to get intimate with a girl-next-door, camcontacts.com is your best choice.
If you visit camcontacts.com, don't be ashamed to quickly exit chat rooms if you are not satisfied. Camcontacts.com does not feature public chat rooms. So, the only way to evaluate a camgirl is to enter her private chat room.
The Livejasmin models are sophisticated. They provide a quality standard of webcam service. Most of them are able to have a conversation in English. They all wear make-up and classy clothes in a luxurious environment. This is the Livejasmin signature.
Click here to join camcontacts.com for free