Some camgirls offer their customers to chat on Skype rather than chatting on an adult chat website.
We found that camgirl websites protect your privacy and your anonymity. They act as a protecting intermediary between you and the camgirl. When you visit a camgirl on an adult chat website, you don't need to provide the camgirl your real name, your personal details, your real skype account, your Facebook account, your email address, your PayPal account, your bank details. In the vast majority of cases, adult chat websites prohibit camgirls to record the video streaming of users.
Thus, adult chat websites protect you against scams, thefts and being blackmailed.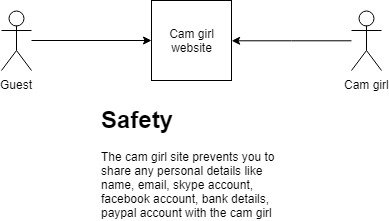 On the other hand, if you want to chat with a camgirl without using a camgirl website, it raises several red flags related to your anonymity and your privacy.
Payment issue
I have tested chat sessions with independent camgirls who don't work on a camgirl website. A camgirl sent me a link to an online payment system that I was unaware of. I understood that a camgirl could send me a link of a fake payment gateway page to obtain my credit card details (phishing) and steal me later on.
Some people wonder if it is safe to pay on camgirl websites. In fact, this is the safest solution! Conversely, It is not safe to enter your credit details in an unknown payment gateway. Keep in mind that when you use a camgirl website like Imlive, the adult chat website and the webcam model doesn't see your payment details, only the payment gateway has access to your payment details.
Camgirl websites use well-known payment gateways. We never had a problem with the payment processors of any camgirl websites.
Anonymity problem with Skype:
If you want to chat with a cam model via skype, you need a Skype account. It would be better to have a Skype account where your real name is not mentioned. So, this means you must create a brand-new Skype account. If you use a Skype account with your real name, you can find yourself in trouble because a camgirl could black mail you. Don't forget that the history of your messages, shared pictures and videos are stored after a chat session on skype. We found that links to websites were visible 6 months after it was posted in a skype chat session. According to Skype, uploaded videos are available on skype for 30 days! For sure, it is always possible to delete these medias, but I don't know if there are deleted at the other end as well.
A woman can take a screenshot of the conversation, the links to the pictures and the videos whenever she wants. She can take her time to download the pictures and the videos.
Underaged risk on Skype:
A woman may pretend to be 18+ and she may be in reality 17 years old on Skype. Then, following the skype chat, she can file a complaint at the local police station against the online visitor. A man can be falsely accused of being a pedophile.
This issue CAN'T occur on Imlive, Livejasmin, Streamate, stripchat, camcontacts, soulcams, camsoda, chaturbate because these camgirl websites are all compliant with the 2257 US regulations. This means there are no underaged women on camgirl websites.
Scheduled skype chat vs Instant chat session on camgirl site
I have scheduled a chat with several camgirls of cam4.com for a Skype chat. They were all independent. I agreed on a cam-to-cam chat session using skype with them. I have sent a message on cam4 to 2 of them. They asked me to come back the day after for the skype chat session. You read it well, I had to wait 24 hours before the skype chat.
Conversely, you don't have to wait when you click on a "private chat" button of a camgirl chat site. Your are brought to the private chat room right away.
This made me understand that skype chats could be a scam because I had to pay the chat session upfront using tokens of cam4.com. Then, I had to wait for the date and time of the Skype appointment. The camgirl could have never showed up. Some camgirls are quite expensive. So, imagine, you could pay $500 the camgirl and get nothing in return. If she is located in another country, what can you do?
She could also be late and she may postpone the private chat. I have noticed that some of those independent camgirls aren't serious. They may be 1 to 3 hours late on Skype.
Duration
After starting a skype chat session, I understood that the camgirl could decide to stop the chat session whenever she wanted. She could also have asked me to pay more to continue to talk to her.
At last, technical failures can shorten the chat session on Skype. If the chat stops after 1 minute, knowing that you paid in advance the chat session in full, how does it work? Would the camgirl accept to re-connect with you? As you can see there is a lot of uncertainty here.
On Imlive, if the communication stops during a prepaid session, the website will store the amount of time left. So, you can re-enter the private chat room and benefit from the time left. If you can't reconnect, Imlive tops up your account with the number of credits spent.
Recording software:
Independent camgirls can record their SKYPE chat sessions without you knowing it. Primarly because there are no terms of service to protect the privacy of users.
On the other hand, when a camgirl uses a camgirl website, the terms of service prohibit her from recording a cam-to-cam chat session (example: LiveJasmin, streamate, camcontacts, imlive, camsoda,…). When a camgirl works for a studio, the said company locks out the computer to prevent any applications to be installed on the computer by the camgirl.
You don't believe me? Here is a reply that I have found on a subreddit dedicated to camgirls. She refers to Skype shows because Skype keeps the transcript of your text messages.
For your information, the adult chat sites like Livejasmin prohibit cam models from saving the transcripts. On Livejasmin, Streamate and Imlive once the chat session is over, the text of the conversation is deleted.
This means that on skype, nothing prevents a camgirl from recording your webcam video and taking screenshot of your webcam. For example, the skype camgirl can take pictures of you masturbating, jerking off or inserting a dildo in your ass. The camgirl can take picture of you in "humiliating" situations for the public. For example, She could take a picture of you dressed like a woman in stockings with makeup and wig.
Email address:
Once again, if you provide an email address to a camgirl, you would need a dedicated email address for this purpose. Otherwise, the camgirl could type your email address in google and find sensitive information about you.
No string attached:
When you use a camgirl website, you can stop visiting a camgirl and ignore her offline messages if there are any. You can decide to stop comunnicating with a camgirl, remove her from your favorites and choose another camgirl. Conversely, if a camgirl has your email address, she can send you spammy emails to know whether you would be interested in a private chat.
Nudity is prohibited on Skype
Be aware that Skype can close your account if you get naked in front of your webcam. Live pornography and nudity are prohibited by the Skype terms of service. if a camgirl does not like you, she can report your account and your account will be closed. There will be not appeal. So, if you use Skype to work, you will be in trouble.
On the other hand, all the camgirl websites allow pornography and nudity via webcam.
If you wanted to file a complaint against a Skype camgirl
Imagine that you have been scammed by a skype camgirls. Do you imagine yourself going to your local police station and filing a complaint against a camgirl? You could ask yourself if she does not have private pictures, text and videos of you. If she is sued, she could disclose this information about you. Additionally, the camgirl may live in a different country. She will never be worried by the Police. The International request will never reach her.
This type of situation can't happen on a camgirl website for the reasons I have explained before. Prevention is better than cure.
Streaming quality problem on Skype:
camgirl websites like Livejamin require camgirls to provide a good webcam streaming quality. On Skype chats, camgirls don't need to provide a good webcam streaming quality. So, once, I performed a test with camgirl on Skype. She used her mobile phone to broadcast herself. From time to time, the sound went away when she was moving her mobile phone. She asked me to pay upfront. I didn't expect that this camgirl would use her smartphone for the chat as she used a desktop HD webcam in the past.
I understood that a camgirl could have also streamed from a noisy public place if she wanted to. As you can see a Skype chat can be a complete rip-off.
Unregulated price
On Skype chat, a camgirl can set a high price just for one customer. On the other hand, she can't set a different price for each customer on a camgirl website. So, a camgirl could set a price of $10 per minute on skype while she would ask $2 per minute to other customers. One or several customers can be aggrieved. Conversely, A camgirl is only able to set a unique price for everyone on a camgirl website. Also, it is a danger for men who are addicted to camgirls. They may be unable to stop spending money on skype camgirls.
Conclusion:
The camgirl websites are really safe. Those websites like Livejasmin, camcontacts, streamate, chaturbate, camsoda, Imlive, soulcams bring you the safety and the peace of mind that Skype can't bring you. I am surprised that there aren't more sex scandals related to skype nowadays.
Conversely, Skype cam2cam chats with nudity and sexual acts can be dangerous for your privacy, your anonymity and your wallet.
For your safety, avoid Skype camgirls at any price
I think that Skype can cause many problems that I didn't mentioned above.