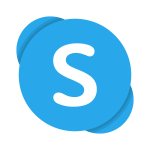 The Microsoft terms forbid pornography & nude on all of its platforms. Skype is owned by Microsoft. So, pornography and nudity are banned on Skype. Consequently, any Skype communication where a woman would get naked on webcam to perform live sex shows is now prohibited by Skype.
Here is what the terms say:
3. Code of Conduct.
a. By agreeing to these Terms, you're agreeing that, when using the Services, you will follow these rules:

i. Don't do anything illegal.
ii. Don't engage in any activity that exploits, harms, or threatens to harm children.
iii. Don't send spam. Spam is unwanted or unsolicited bulk email, postings, contact requests, SMS (text messages), or instant messages.
iv. Don't publicly display or use the Services to share inappropriate content or material (involving, for example, nudity, bestiality, pornography, offensive language, graphic violence, or criminal activity).
v. Don't engage in activity that is fraudulent, false or misleading (e.g., asking for money under false pretenses, impersonating someone else, manipulating the Services to increase play count, or affect rankings, ratings, or comments).
vi. Don't circumvent any restrictions on access to or availability of the Services.
vii. Don't engage in activity that is harmful to you, the Services or others (e.g., transmitting viruses, stalking, posting terrorist or violent extremist content, communicating hate speech, or advocating violence against others).
viii. Don't infringe upon the rights of others (e.g., unauthorized sharing of copyrighted music or other copyrighted material, resale or other distribution of Bing maps, or photographs).
ix. Don't engage in activity that violates the privacy of others.
x. Don't help others break these rules.
If a Skype user does not comply with this clause, here is what the TOS say about it:
b. Enforcement. If you violate these Terms, we may stop providing Services to you or we may close your Microsoft account. We may also block delivery of a communication (like email, file sharing or instant message) to or from the Services in an effort to enforce these Terms or we may remove or refuse to publish Your Content for any reason. When investigating alleged violations of these Terms, Microsoft reserves the right to review Your Content in order to resolve the issue. However, we cannot monitor the entire Services and make no attempt to do so.
Reference: https://www.microsoft.com/en-us/servicesagreement#serviceslist
Because of these terms, someone can ask Skype to ban the account of user by reporting her/him. While the terms state that they may close the account, according to our observations the Skype team systematically closes the account of camgirls who operate on Skype.
For example, we know a Hungarian woman working at cam4 who saw that her Skype account has been shut down without notice. This happened after a unsatisfied customer decided to report her to Skype. Be aware that everyone can report a user on Skype. So, for instance, a camgirl can also report a user who got naked on webcam.
Consequently, it is not advised to take a Skype account that is used for other purposes like interacting with friends, family or coworkers.