WebCam model websites can be used as dating websites to meet Ukrainian women online. I do think that camgirl websites are the best solution to meet Ukrainian women online.
Better than dating agencies:
When you join a camgirl websites, don't need to pay a dating agency or a human translator. You can directly chat with a woman only. Even if the chat is a paid chat, it is worth it. when you enter a private webcam chat what you get is what you see. On the other hand when you use a dating website, you don't know if the Ukrainian woman uses photoshopped pictures or stolen pictures of a model. An Ukrainian woman working as a camgirl may use stolen pictures or photoshopped pictures. However, after entering a private chat room, you will quickly see if she is the woman of the picture and if she is looking as good as in pictures.
English level problem
However, Ukraine is one of the countries in Europe with the smallest number of people understanding english. So, in a chat session, you may have to wait for the webcam model to translate in Ukrainian or Russian what you typed. Then, she would type an answer in Ukrainian, translate it in English. The conversation can be quite slow with the webcam model.
You can help an Ukrainian woman during a chat by using a translator like yandex.com
In This case, learn to split your screen in two, to get one screen where you can see see the camgirl and one screen where you can translate your text.
Advice for your approach
Don't focus on only one woman. You should browse as many camgirls as you can. It would be also worth it to chat with as many camgirls as you can as you will get a wide variety of behavior during a private chat. An Ukrainian woman can be nice and open-minded but it is not a rule. During chats, I have found that some women could be arrogant, self-centered, antipathetic, liars, players, manipulators. Some women didn't want to talk. Some women are susceptible and get upset quickly.
I do encourage you to leave a private chat as fast as possible when you find that the woman at the other end is not respectful. Don't forget, a private chat on webcam chat is not a chit-chat in a nightclub. This is a paid chat. Consequently, the camgirl should be respectful with you. If it is not the case, leave without saying good bye. Also, if the feature exists, block the camgirl to prevent her to send you messages.
That's why I suggest not to activate your webcam in a first chat session. Evaluate the woman in a text chat first. I have done experiments and I haven't found that a woman was nicer when I turned on my webcam.
Be aware that the nicest Ukrainian women don't work too long on camgirl websites because they usually meet someone and then they delete their profile. Traditionally, Ukrainian women stop working as a camgirl when they have a boyfriend or husband. On the other hand, Ukrainian psychos do work as camgirl for many years and no men want to date them. Consequently, there are many psychos on camgirl websites. That's why it can be worth creating a black list with the nicknames of those toxic women.
I want to warn you. Don't enslave you in a toxic relationship with an Ukrainian camgirl. Unlike real life relationships, you can always say stop to an online toxic relationship. So, don't be masochist. Don't fall in love with a toxic woman. There are nice women online too. You should focus on those ones.
Be curious. Don't stick to one category of camgirls. Visit different categories and visit as many camgirls as you can.
No worries, you will not get ruined. You will quickly see if a woman is worth speaking to or not. For example, some women steal pictures from supermodels. When you enter the chat room of such a woman, you discover they don't look like in the pictures. So, Leave right away. A woman does not want to talk to you? You waited 2 minutes and you got no answers to your questions? Leave right away! A woman is upset with you even if you are polite, courteous, nice? Leave right away! A woman does not want to answer your questions even if they don't offend her? Leave right away!
You should be choosy if you want to meet a nice Ukrainian woman online. It may take some times before you find one. I don't want to lie to you.
Because of this situation, you should browse women who just started to work as a camgirl. According to my observation, in general, the most interesting Ukrainian women don't work as camgirl for more than one year.
List of camgirl websites with Ukrainian women
I chose below a list of camgirl websites where you can at some exchange your email address with an Ukrainian woman. Don't use your personal email address, create a disposable email address for this purpose.
Camcontacts
We tested camcontacts.com where we chatted with women from Kiev, Odessa, and Donetsk. We audio chatted with few of them. Most of the time, we had to type because the Ukrainian woman didn't understand what we said in english. They used google translate. Some women connected from their apartment and some women connected from a studio. You can spot an independent camgirl by looking at the background. Camcontacts.com allows guests to exchange personal details like an email address with webcam models.
Usually, it is less luxurious when the webcam model connects from home. The room is not too bright and the pieces of furniture are basic. The walls are not colorful and the webcam video feed is not of high quality. When you see the following hints it means the camgirl connects from home.
Find below an example of Ukrainian webcam model "hotnbitterChoco" from Ukraine on Camcontacts. This website allows you to exchange personal details like an email address with her. But, before you do so, please take the time to check if the cam model is trustful.
Click here to join camcontacts.com for free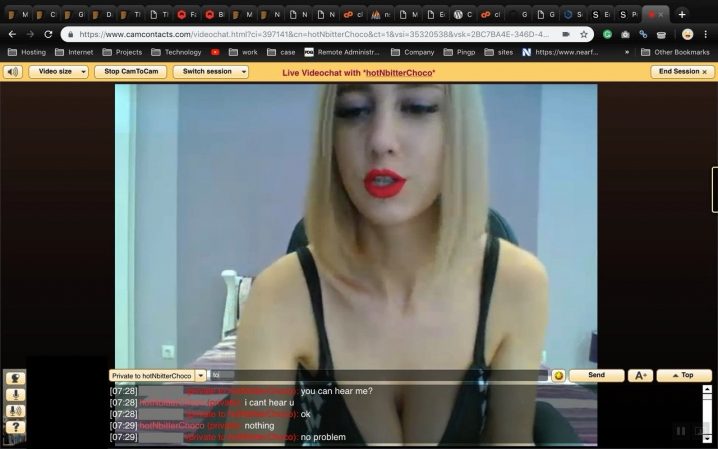 Camcontacts.com allows two chat modes: the open session chat mode where other people can also chat with the camgirl and the one2one exclusive chat mode where no other guest can chat with her. There is an applicable price rate per minute in both cases.
There is a wide variety of personalities. Some webcam models are sweethearts willing to meet someone and some are just interested in role-playing. So, it can help you save money if you read the description of the webcam model first.
Thanks to the search form of Camcontacts, you can filter camgirls by country. This is how you can find women from Ukraine on the website.
Imlive
This website also features Ukrainian women on webcam who are willing to date a foreigner on webcam. Two Imlive categories are good for dating Ukrainian women: "shy girls alone" and "friends and romance".
Unfortunately, this website does not mention the woman's country of residence. Nevertheless, many camgirls at Imlive come from Ukraine, so you should find one of them.
Imlive private chats are really cheap so that you can take your time chatting with Ukrainian women.
Click here to join Imlive for free
Find below a sample of women who were available for a chat when we took the screenshot.


Soulcams
Unfortunately, the country of origin is not mentioned in soulcams.com camgirl profiles. However, you can check if they mentioned that they spoke Russian or Ukrainian. Usually, an Ukrainian woman will mention that she speaks both Russian and Ukrainian. You can also observe the indoor of the camgirl. You will find Ukrainian and Russian women on Soulcams.
This website is interesting because it allows a lot of freedom. People can exchange personal details on soulcams.
Usually, there are few online camgirls on soulcams. So, it is advised to browse the offline camgirls of soulcams and send a message to your favorites to encourage them to come online. I know that this website is really respectful with freedom of speech. They don't spy on conversations.
Click here to join Soulcams.com for free
More advice
Language barrier
As I explained before the language barrier is a major problem. However, it does not means that a woman is less interesting if she does not speak English. So, you must be indulgent as well. You can help her by translating sentences in Russian. Anyways, if you would fly to Ukraine for a speed dating event organized by an international dating agency, the language barrier would still be a problem. You would need to chat via a human translator and I think it is worth than google translate.
About Ukrainian women
There are huge gaps between personalities in Ukraine. I have met Ukrainian women who were modest, good listeners, respectful and I have met total psychos who were arrogant, selfish, susceptible, grumpy. Even if I tried to be nice to a psycho, I rarely improved the situation. However, I must admit that I succeeded in around 20% of the cases. I think that it is important to spend time evaluating a woman in a text chat. Usually, it takes me 1 to 5 minutes to assess the mindset of a camgirl.
Be rational rather than emotional. If you see that an online relationship goes nowhere, delete a camgirl from your list of favorites. Also, it is worth write a note about a camgirl to avoid making the same mistakes again. For instance, if you see that a camgirl fooled you, write it. So, then, in several months, if the camgirl still works on the website, reading your note will prevent you to waste your time in a private chat with this camgirl.
The last step
As I explained before, you should create a disposable email address. Also, you should not focus on one camgirl. You should distribute your email address to your favorite camgirls. However, I do encourage you to be choosy. Think about it before giving your email address. Don't give it to anyone. Between yourself and the camgirl, other people may get your email address like website employees, relatives of the camgirls, studio owners…
Advantages of Ukraine over Russia
It is much more complicated to fly to Russia rather than flying to Ukraine because of the visa. Before flying to Russia you must get a visa with an invitation from a Russian hotel, your Airbnb host or your landlord. You must also take out a special travel insurance. A Russian visa is only valid for exact dates and cannot be extended after the traveler has arrived in the country, except in the case of a medical emergency. Any mistakes in visa dates must be corrected before the traveler enters Russia. You need an exit visa, if your Russian visa expired. If you change your place of stay and plan to stay at a new place for more than 7 days, your new place of stay should be registered again.
So, As you can see, it is really complicated to visit Russia. It is still possible to visit Russia but it will be easier to stay in Moscow or Saint Petersburg if you want to stay out of trouble. On the other hand, you can travel wherever you want in Ukraine.
Visiting Ukraine
You don't need a special visa to visit Ukraine if you come from North America, Europe or Australia. Some camgirls live in cities that aren't Kiev or Odessa. It is not a problem because it is cheap to rent a car in Ukraine and it is easy to drive in Ukraine. I would recommend to use Google street view and Google maps to know where you go beforehand. For sure, it is easy to meet women in Kiev and Odessa.
However, I have some advice for you.
Don't focus on one Ukrainian woman. Schedule several dates with different women in Ukraine. Otherwise, if you pin your hopes on one woman, you can get extremely disappointed if she turns you down. At this point, you may rail against Ukrainian women. However, you would have had only one instance of a bad interaction with an Ukrainian woman. Also, you should not fly to a country for one woman only. You should make your flight cost efficient by meeting several women.
Donetsk and Luhansk issue
You may know that the eastern part of Ukraine separated from the rest of Ukraine. The situation is shady right now. You don't need to take any risk, you can give a woman money from her to leave the Donetsk or Luhansk province and meet you in Kharkiv or Dnipropetrovsk.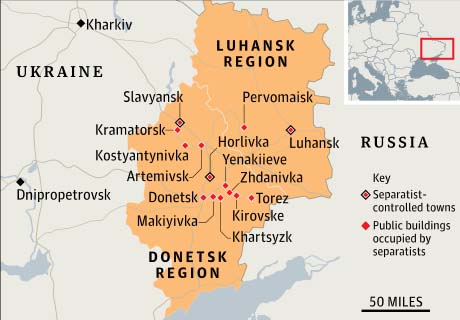 I have noticed that many camgirls leaving either in the Luhansk or Donetsk region went to Kiev or Odessa from time to time. So, that's a good opportunity to meet those women. What you can read about Donetsk and Luhansk is not always true on the web, so be cautious.
Beware of the classic scam in Ukraine
Some women may pretend that they have to pay the medical expenses of a relative. They just want your money. When I faced this scam for the first time I was a bit disgusted by this behavior. However, I understood that the economical situation of Ukraine is bad. Those Ukrainian women aren't the spoiled children of the western world. They live in a one room apartment. They don't go on vacation every year. They turn off the light and heater to save money. So, it is better to agree on a deal. For instance, you suggest to buy her food, laptop (like a Chromebook), clothes… Don't avoid facing the problem of income difference. It is better to tackle it to start a healthy relationship.
I do think that dating an Ukrainian woman is not expensive. I am French and It would cost me much more money to date a woman in Paris. Also, French women love to go to expensive resorts. That's why I think that It is cheaper to date an Ukrainian woman even if you buy her gifts than dating an American, a Dutch, a British or French woman.