In our adult webcam chat website comparison, we found that some camgirls on some websites could set high prices per minute. This is the case of chaturbate, myfreecams and stripchat from time to time. Websites like LiveJasmin, Camcontacts are also great but they don't offer any discounts for private webcam chats. We found some websites who offered discounts.
Streamate discounts
Camgirls on streamate can set up discounts for private chat sessions called "block session". Block sessions are fixed chat durations at a discounted price. So, you can have a 15-minute, 30-minute, 45-minute private chat or a 15-minute, 30-minute, 45-minute exclusive chat at a low price per minute. If you are not familiar with streamate, a private chat is session where you can text/audio/video chat with a camgirl. other people can enter the paid chat session and see what the camgirl is doing without being able to read your chat or see you. An exclusive chat is a chat session is a real one-to-one chat and nobody else can enter the chat.
The block sessions are good to get a discounted price for an exclusive chat. Usually, exclusive chat are more expensive than private chats. If you know the camgirl, if you know that her live sex show or her chat is really great, opt for an exclusive chat as a block session. Doing so, you will be in a really intimate chat and no-one else will be able to bother you.
Unfortunately, not all camgirls activate block sessions on Streamate.
Click here to join streamate for free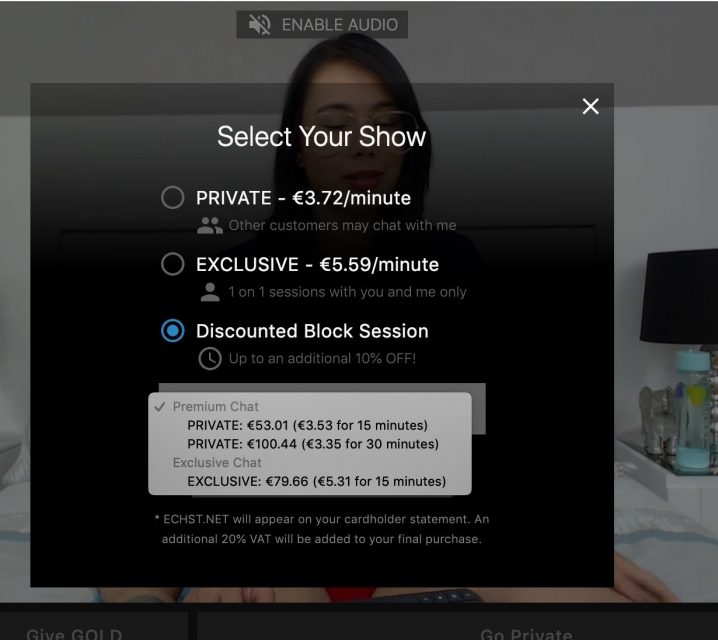 Imlive discounts
Imlive has 2 options for discounts. Sometimes, the camgirl publishes a discount code in her description.
Sometimes, she offers discounts for a 30-minute chat and for a 60-minute chat. When you click on the private chat button of Imlive, you will see the discounted chat options. You can find below a screen shot of these options
Imlive is one of the websites with the cheapest private webcam chats. However, don't rush into a discounted chat if you don't know the camgirl. First choose a session with a price per minute and then switch to a discounted chat when you see that her live sex show or her chat are really good.
Click here to join Imlive for free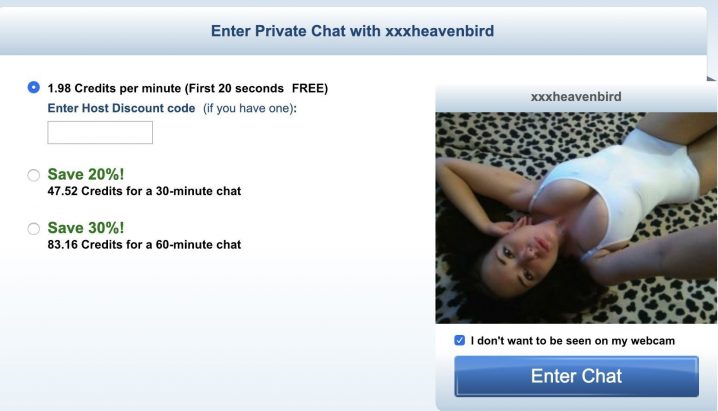 On the profile of a camgirl, you can also find sometimes a discounted club button. This is an offer that works well for the regular customer of a camgirl. It allows you to get discounts against a one-time fee. This fee is not renewed. To find camgirls who offer to join their discount club, go to filter > feature > discount club.
As you can see below, this discount club allowed to save even more money on regular chat paid by the minute, 30-minute private chats, 60-minute private chats.
Example:
Join with a FREE Voucher or get ALL your Discount Club membership fee BACK for video chats with me!
Get a 0.90 Credits/min. discount on my private video chats!
Get a 35% discount per video on ALL my 'Past Live Shows' and videos you recorded in a session with me!
Save even more on my 30-minute chat (30% discount instead of 20% discount) & on my 60-minute chat (40% discount instead of 30% discount)!
Watch ALL of my Host Videos, which regular members pay for, for FREE!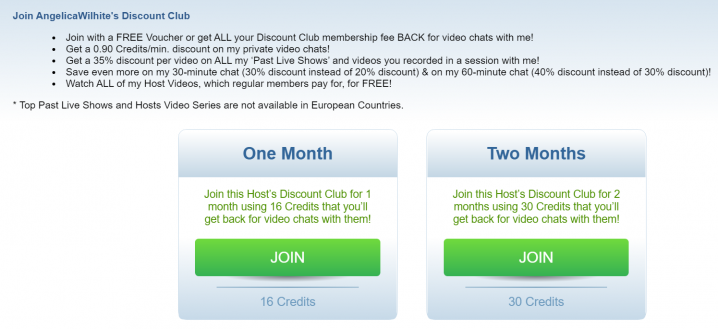 Imlive is cheaper than Streamate. However, Imlive camgirls are not as good english speakers on average as Streamate camgirls. However, there are also very good english speakers among the Imlive camgirls. They usually have 5 stars and good reviews. This means you can find camgirls who are as good as streamate camgirls at low price.