There are adult chat websites that allow you to share your sexual fetish with a beautiful woman in a private webcam chat room. We know that some men may be ashamed of their fetish. A sexual fetish is very personal and it is hard to share it with someone as it is very sensitive for the person who has the fetish. Those websites allow you to share your fetish without fearing being judged or criticized about your sexual fetish.
Imlive
A significant number of Imlive camgirls are specialized in various sexual fetishes. On top of that Imlive is for people who want a private webcam chat. There are no free live sex shows at Imlive. So, if an Imlive user wants to see some action he must go to a private chat room. This means that Imlive camgirls are used to listening to users' sexual fetishes in a private chat session. Usually users visit the private chat room and talk about their sexual fetish. Conversely, when you visit a camgirl tipping website like chaturbate, the camgirls perform live sex shows in their public chat room. They aren't looking for private conversations with members. At least, they can't be used to listening to sexual fetishes in a private chat room.
This website has an advanced search engine which allows you to find camgirls by sexual fetish: Bondage, chastity training, cock & ball torture, cuckolding, discipline, face riding, financial domination, first, foot fetish, gags, jerk off instructions, orgasm denial, submission, rubber/latex/PVC.
Additionally, Imlive has a low price rate for long private chats. Some camgirls allow opting for a 30-minute or a 60-minute block session with a discount. Thus, you can take the time talking about your sexual fetish without ruining yourself.
I found that the Imlive camgirls were good listeners. They are professional. If you are looking for an intimate place to share your sexual fetish, Imlive is for you.
There are two chat modes at Imlive: Text chat (which is the default mode) and audio/video chat via the webcam.
On Imlive, you can find camgirls for: Bondage, Chastity training, Cock & ball torture, Cuckolding, Cum play, Discipline, Domination, Electrosex, Face Riding, FinDomme, Fisting, Foot, Humiliation, Jerk off instruction, Orgasm Denial, Outfits, Piercings, Pony play, Submission, Tattoos, Nipple torture and much more…
Click here to join Imlive for free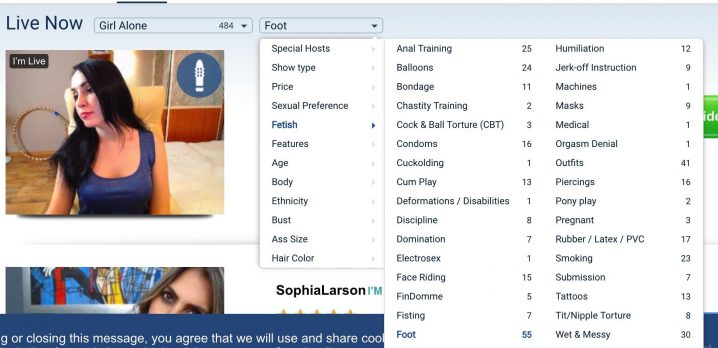 Livejasmin
There are few sexual fetishes categories on Livejasmin. Under the category "willingness", you can find dominant and submissive. However, after discussing sexual fetishes with LiveJasmin camgirls, we found that many men shared their sexual fetishes with every camgirl on the website. We heard from camgirls that Livejasmin visitors were into foot fetish, leg fetish, hand fetish, teeth fetish, high heel fetish, rubber fetish, latex fetish and PVC fetish among other…
On LiveJasmin, there are NO free live sex shows in public. Consequently, a camgirl is instantly available for you when you enter a private webcam chat so that you can instantly satisfy your sexual fetish. The average price per minute of LiveJasmin is not so high compared to other adult chat websites on the internet.
BDSM on Livejasmin
Then, there is also a fetish category in the left sidebar with strong flavors of BDSM. Some camgirls have a whip, gags ball, leather uniform, and boots, handcuffs, chains, leather or latex uniform, masks, strap-on. For sure, they can be domina. Some of them may be submissive on webcam towards the visitor.
Click here to join Livejasmin for free

In both "regular" and fetish categories of Livejasmin, you can find camgirls for a fetish. Since it is possible to chat with the camgirls in their public chat rooms, you can ask if they perform a fetish before getting in a private webcam chat. I would also strongly encourage you to read the description of a camgirl.
My advice for anonimity:
You may feel like losing your anonymity by showing your face on webcam. That's I suggest you to opt for an audio chat session without video. Thus, the camgirl can hear you without seeing your face. I think that this audio communications are the best balance between guaranteed anonymity and user experience. If you are paranoid about your anonimity on camgirl websites, I advise you to buy a cheap headset. Their microphone naturally modifies the voice of a user.
If a camgirl insists and wants you to show your face, leave her chatroom. You will not get a better user experience by showing your face. Also, camgirls are service providers, they should not impose their will upon you.