Discounts at Imlive:
Some Imlive camgirls add a discount code in their description text. Then, enter the discount code in the text field of the private chat choice page.
Also, some camgirls allow you to save 20% if you choose a 30-minute private session and 30% if you decide to go for a 60-minute private session. Imlive is the camgirl website with the best discount deals for private chats. Not all camgirls offer discounted chat sessions, that's why it is better to choose camgirls who offer discounted chat sessions. Additionally, you can filter camgirls by rates at Imlive.
Click here to join Imlive for free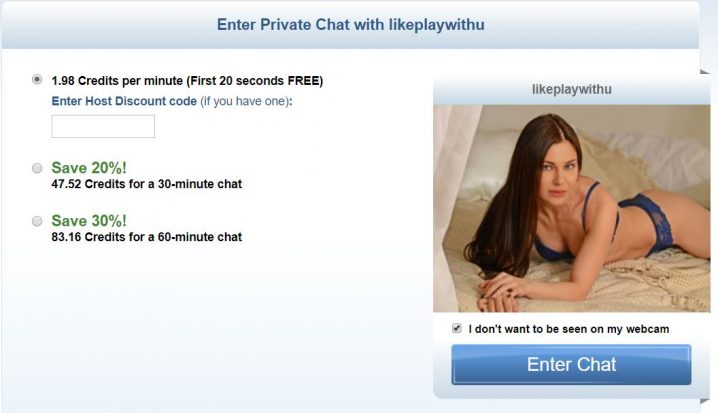 There is also the option to subscribe to a discount club. It is a monthly membership which provides a discount. To find a camgirl that allows discount club, log in and click on the button on the right upper corner next to the magnifying glass icon. Then, click on "Participates in" => discount club. Then you will find an additional tab named 'discount club' on the profile of the camgirl. This is a good option if you regularly visit the same webcam model.
Click here to join Imlive for free
Discounts at streamate:
In the menu for a private chat, there is sometimes an option called discounted block sessions. Block session is a discounted private chat session with a camgirl (usually 15/30 minutes). If block session is not displayed, that's because the camgirl didn't activate it. The camgirl has to activate the block session options. That's why it is better to choose a camgirl who offers block sessions to spend less money.
Click here to join streamate for free
Livejasmin Discounts?
Livejasmin is a great website, but Livejasmin does not offer any discounts. So if you want to stay 30 minutes in a private chat, you are going to pay the rate as you would stay for 5 minutes. Nevertheless, you can also find cheap camgirls at LiveJasmin
Camcontact discounts?
camcontacts.com does not have any discount rates.