Here are some advice to choose a good camgirl for a private chat session on Livejasmin, streamate, camcontacts, Imlive, soulcams, stripchat.
Prefer camgirls who audio chat
If a camgirl speaks out loud to you in an audio chat, this means that you are her only interlocutor. On the other hand, if her audio is off, she may text chat with several users at the same time.
An audio chat also means that you really chat with the camgirl; not a human translator (my article about scams).
This also means that she understands what you say. Also, it is cheaper to chat out loud with a camgirl rather than chat with a camgirl by typing your text. When you text chat, it takes a long time to type a sentence. Without being aware of it, it is way slower to express your will by typing rather than talking.
If privacy matters to you, you are not forced to talk to her. You can type and she can answer you by talking. If she does not understand English well, she can still turn on her audio to show that she is honest. Good camgirls switch on their microphones.
Prefer camgirls who speak out loud
If a woman has to translate every sentence you send her, it will take time to chat with her because she will have to translate your sentence, then, answer in her language and translate it into your language. it takes a long time. You could help her by using a translation website like google translate or yandex and pasting your sentence in the text field. It is possible on Livejasmin, Stripchat, Camcontacts but it is not possible on Imlive. However, A main problem arises when the said camgirl who does not understand English set a high price per minute. I do think that the price of such camgirl should not exceed $2 or 2 euros per minute.
Choose camgirls who want to talk
If you see that she does not answer your question, leave as soon as possible.
Leave a chat room if you see that the camgirl answers to you by typing one word or very short sentences like "yes", "no", "I like it". If you post 20 sentences, and get a "yes" or "no" in response, it is really not worth paying for the private chat since there is almost no interaction.
Also, if a camgirl refuses to answer, if you see that she is aggressive, just leave without saying goodbye. If she is upset because of a question, don't waste your time. Sometimes camgirls don't answer even if they really understood the question. Here is an example, a customer asked a camgirl: "do you like to watch porn?" and the camgirl answered "I guess you can watch porn too." In such a situation, I repeat the same idea. A paid webcam chat session is not a chit-chat at a party. The woman is a service provider. If she does not deliver, you should leave instantly because you pay for the chat. If there is a user review area, describe the problem with the said camgirl.
Prefer webcam models who respect privacy
Sometimes, even if you pay for a private chat session, the chat session is not exclusive meaning that other people can enter the chat room and interact with the camgirl via text. The camgirl must turn the chat room into a private chat room.
So, while you are chatting with a camgirl, if you see the camgirl standing up and removing her bra without asking, this is because somebody else entered the chat and asked the camgirl to do something.
For your information, some camgirl websites provide an exclusive chat mode. This means that in this mode, no other guests can enter the chat room. These camgirl websites with a truly exclusive private chat are stripchat, streamate and camcontacts
On Imlive and Livejasmin, a good camgirl is a camgirl who turns the chat session into an exclusive (one-to-one) private chat.
Take a look at her score or user reviews
A webcam model may look stunning but it does not mean she will deliver during the private chat session. Many adult chat sites have a score system or a review system. For example, when you visit the profile of a livejasmin cam model and click on description, you can see a number of stars at the top of the window. If you see one star only, it is not a good sign. It means that other members rated this cam model and gave her one star only. On camcontacts, when a user wrote that it is a waste of time to chat with the camgirl, it is usually true. On Imlive, there is also a useful user review area.
A good camgirl has always five stars on livejasmin, camcontacts, streamate or Imlive.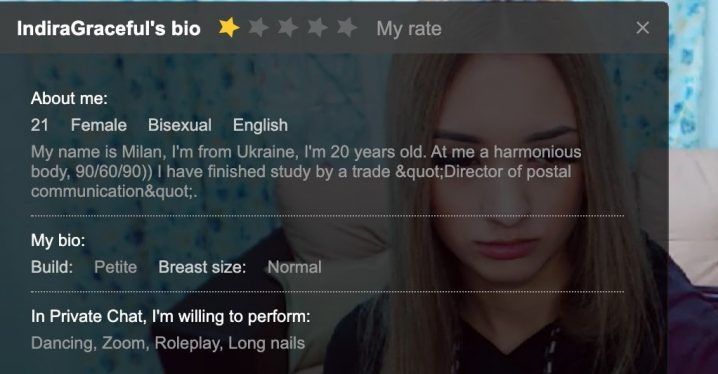 She must do what you asked
When you asked a woman to get naked and when you see that she is obviously dragging out by chit-chatting, it is time to leave the chat session. Some camgirls are slow on purpose because they want the guests to stay as long as possible. On the other hand, good camgirls do what you asked right away.
When a camgirl answers your questions after a significant time, this may not be acceptable. I wait up to 30 seconds before leaving. I know that sometimes camgirls use google translate. I prefer when they mention that they use it. Otherwise, there is no reason to wait for an answer.
No public chat room? She must have good pictures
The profile of a good camgirl should count many pictures, if the visited adult chat website does not offer a free public chat room to see the webcam model before entering a private chat room. By the way, It is not acceptable when a camgirl uses pictures from another photo model. It means she tries to fool you. She could hide her face on her profile pictures.
Today, with a little smartphone, it is effortless to take good pictures. However, some webcam models take bad pictures on purpose.
The behavior of those camgirls don't make sense because they can block visitors coming from their country of residence. So, for instance, a Russian woman can block Russian visitors. They don't need to hide their face since no-one in their country will be able to see the camgirl profile.
Analyze her profile description
Don't only rely on a video or on pictures. You can learn lots of things from the profile description of a camgirl. A good camgirl details her live sex show activities. Some camgirls don't perform any live sex shows. A good camgirl takes the time to fill out the fields of her profile description.
A good camgirl does offer many types of live sex shows. It means she is proactive and creative. She is also willing to please adult chat users. On the other hand, when a camgirl does not do anything in front of her webcam, she has nothing to offer.
Users leave keywords on Streamate as it is really useful because it helps to know what you can find in a private chat room.
Avoid role reversal
Sometimes, some camgirls question you about your life every 10 seconds in a private chat. This is what I call role reversal. It is like paying for a woman to get questioned. To me, it is an outrageous situation and I encourage everybody to leave the private chat room right away when it happens. You don't come online and pay a chat session to get questioned. This is a nonsense. For sure, it is different if you want to talk about yourself at your initiative. My rule is the following: a camgirl should only ask a question about a user if he started to talk about it. For example, a man starts to talk about his divorce. Then, the camgirl can ask a question about the divorce. On the other hand, upon entering the chat, she should not ask a series of intrusive personal questions like these:
"When was your last sex?"
"What was your longest relationship?"
"Do you have a job?"
"What is your job?"
"Do you work?"
"Why aren't you at work now?"
"Are you divorced?"
"Are you single?"
"Are you married?"
"Did you cheat on your wife?"
"Do you have children?"
"How big is your penis?"
"What color is your penis?"
I think it is also not polite. No stranger in real life would ask you such personal questions without knowing you.
Good camgirls start by saying something like:
"May I ask you, what are you looking for here?"
"Why did you choose me?"
"What do you like to do when you come here?"
Those questions aren't intrusive. In fact, a camgirl can ask respectful questions that aren't personal.
For sure, it is a different story, if you want to talk about your personal problems with a camgirls.
The camgirl asks you to perform actions – Role reversal
Also, in this role reversal, some camgirls ask you to get naked or to show your penis. If you were looking for a domina, I do understand that you would like to get orders from your master. Nevertheless, in this case, it means that you would have made it clear that you are looking for a domina. On the other hand, when you just chat with a camgirl, I think she should not ask you to get naked or show your penis. To me, it is a role reversal, you may to attend a live sex show; not the other way around. For sure, you may be turned on by showing your erect penis. Nevertheless, in this case, you should do it at your initiative. Some camgirl knows how to bring the question. They would say: "you want to show me your penis?" which is much more respectful way to ask a user to show his penis.
A good camgirl learns to speak english well
Some camgirls don't learn english even if they have worked as a camgirl for several months. So, if their price-per-minute is high, it is outrageous. A camgirl who does not speak English does not understand you instantly. The conversation is much slower than if she understood English well. Additionally, she must use a translation website from time to time. if I had to compare the amount of information that is exchanged in a text chat and in an audio chat, much more information is exchanged while speaking out loud. Exchanging information by text takes maybe 10 times longer than talking.
Consequently, if a camgirl does not understand english well, her price-per-minute has to be really low. There are lots of camgirls who are a good bargain.
Otherwise, she should quickly learn to speak english. One can understand why a woman is only 19 years old for instance. In this case, it means that she didn't have the time to learn English online. Conversely, when a camgirl is older than thirty years old, it is another story. She had the time to learn english, but she didn't. If she has worked as a camgirl for several years, it means that she is not serious about her job. In the real world, everybody is forced to get the basic skills to perform a job. So, why wouldn't it be the same for a camgirl?