I tested private chat sessions with cam models on Imlive and Livejasmin and I compared both of these adult chat services. Here are my conclusions.
Camgirls
There are more beautiful cam models on LiveJasmin that on Imlive. On top of that, Livejasmin camgirls allow cam-to-cam during a chat session most of the time. On the contrary, there are some Imlive cam models who don't allow cam-to-cam.
Click here to join Livejasmin for free
Click here to join Imlive for free
Prices per minute of private chats
On Average, Imlive camgirls are less expensive than Livejasmin camgirls. On top of that, most of the time, Livejasmin cam models require the the guest to pay an additional fee for a cam-to-cam. On the other hand, the Imlive price/minute for a private chat is the same if you opt for a text chat or a cam2cam.
If you want to compared the price per minute of an Imlive camgirl vs a Livejasmin camgirl, keep in mind that 1 credit is not always equal to 1 US dollars or 1 euro.
Imlive allows cam models to setup Discount codes and discounted chat sessions. Consequently, a guest may 20% to 30% less on discounted chat sessions. On the other hand, there are no discounts on Livejasmin.
Messaging
It is possible to send an offline message to a cam model on Livejasmin or Imlive. However, the guest must pay a fee to send a message to a cam model on Livejasmin. On the other hand, sending a message is free on Imlive.
Webcam quality
On average, Livejasmin camgirls have a better webcam quality than Imlive camgirls. On both of these websites, the visual is quite good.
Chat application
The private chat application features are similar between Imlive and Livejasmin.
1.You can text chat without being seen. In this case, on Imlive, there is an option entitled: "I don't want to be seen on my webcam." (it is the default option). When you enter a private chat on livejasmin, this text chat is the default mode too.
You can chat in a text to webcam mode or a webcam to webcam mode on both of the websites.
You can't paste a URL or a text in the text field of Imlive during a private chat. On the other hand, you can paste a URL or a text in the text field of Livejasmin so that you can send a camgirl a porn video that you want her to watch.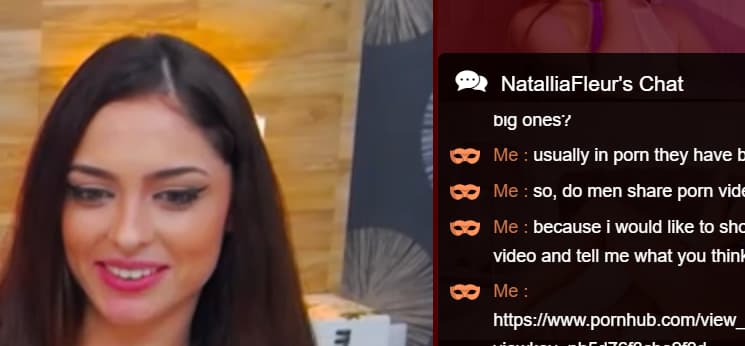 Click here to join Imlive for free