Streamate is a camgirl website that I highly recommend on which you can find good english speakers and sexually mature camgirls. This website has good quality video and big screen size for the video streaming.
Streamate Camgirls
Most of the Streamate camgirls come from Romania, Colombia, USA, Ukraine, and Russia but camgirls may come from all over the world. I also saw women from countries that we aren't used to see online. I have talked to real camgirls from France, Canada, Sweden, Hungary, UK on Streamate. Nevertheless, be aware that some camgirls pretend to come from a country just to hide their real country of origin. If you want to check the real nationality of a woman, go to google translate, translate a compliment in her alleged language and see if she answers. For example, if she pretends to be from Estonia, go to google translate, translate a compliment into estonian, paste it in the free text chat of streamate and wait for her reaction. You can also take a look at the tags that other users added at the bottom of her description.
In general, Women on Streamate understand and speak English well compared to other adult chat websites. More importantly, you can have an audio chat with almost all camgirls. I mentioned the word "almost" because I guess there are women who only want to text chat during private chat session. However, I think there are more women who want to audio chat on streamate rather than text chatting.
Compared to other websites, there are many gorgeous camgirls on Streamate. At least it is not complicated to find beautiful women on Streamate. You just have to scroll down the main homepage and you will find women who look like supermodels.
The sex shows are very different from camgirls to camgirls. That's why it is important to read the description in the profile and the tags on the right side that previous users added. For example, if you read "dildo rider", it means that the camgirl uses to ride dildos. We also saw Streamate camgirls using butt plugs, ohmibod, sex toys. They may finger themselves. They may wear high heels, stockings, and lingerie on demand. Some may perform role plays like the boss/secretary, the naughty maid, the schoolgirl, the daddy girl role-play. Some camgirls are into small penis humiliation, they call the visitor sissy, they may get dominant in front of cuckolds however there is no category to find them. Some camgirls are also in BDSM and bondage.
Click here to join streamate for free
Streamate features:
The streamate interface is clearly the most intuitive interface among all live sex cam video chat websites. It is also easy to filter the right camgirl profile. All streamate camgirls provide a live feed. We also notice that many of them provide HD video quality. Streamate also provided the country origin of every cam model. I think it is perfect when you are looking for a particular type of woman.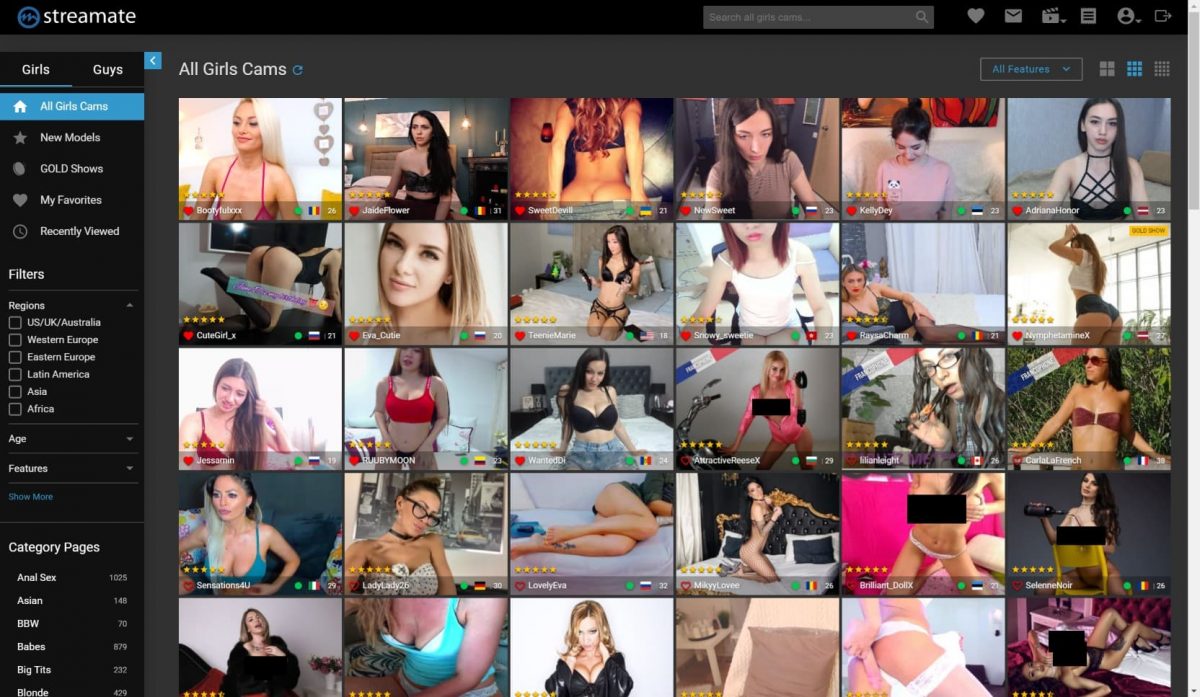 Streamate is the place of famous porn stars:
Streamate.com has a wide variety of camgirls. Streamate features more Latina and porn stars as compared to Livjeasmin and Imlive. For some reasons, celebrity porn stars and erotic models choose streamate to perform live sex shows. We saw that Jill Kelly, Eva Karera, Amber Michaels, Claudia Marie, Tabitha Stevens, Lupe Fuentes, Luscious Lopez or Velicity Von performed live on streamate.com. Streamate is the place for people who want to interact with porn stars because it offers the low rates for video chat sessions with porn stars. Keep in mind that usually porn stars are more expensive than regular camgirls. However, porn stars are much more professional than most camgirls. It does come as a surprise that every time I tested the private chat room of a porn star, her live sex shows were much better than those of camgirls. Also, not all camgirls are sexually open-minded. When you talk to a porn star, you can talk about any sexual subjects, your sexuality, your fantasy, and she will always be a good listener.
The streamate chat modes:
Streamate offers 3 chat modes:
Text chat: you type and the camgirl answer by speaking out loud or by text. This is the default mode of streamate. This means that if you don't do anything else, if you enter a Streamate chat room, the webcam model will not be able to see you and to hear you.
Audio only and Text chat: you can activate your microphone without activating your webcam. In this case, after entering a private chat room, you would press the microphone icon at the bottom of the screen.
Audio/video/text: You can chat in a cam-to-cam chat session. You can also type text in the messaging area. In this case, to activate your webcam you would click on the webcam icon at the bottom of the screen.
Private chat means that you go to a private chat room with the camgirl, but other people may also join this private room. For example, you may enter the private chat, start an audio chat. Other people may listen to what you say if the camgirl listens to you through the speakers of her computer.

Exclusive private chat means that you are in a one-to-one chat with a camgirl. In this mode, no other person can chat with the camgirl. You can get a cam-to-cam including audio and video chat. It is a very important mode that does not exist on some other adult chat websites like Livejasmin or Imlive. Let me explain, On LiveJasmin or Imlive, the camgirl has to decide to turn the chat into an exclusive private chat, otherwise someone can spy on you or someone can disturb the chat and she may type a text while you talk to her. Thus, some LJ or Imlive camgirls may let the chat open to other users. You may not be aware of it if she does not tell you. This includes the situation where you are in 2-way audio and video chat with a camgirl from LJ or Imlive. Consequently, Streamate is one of the best websites for privacy.

Gold show: Here is how it works. First, when a camgirl decides to do a gold show, she starts the countdown and fixes the gold show price (usually 5 to 10 dollars). Then, at the end of the countdown, all the people who paid the entrance fee attend the Gold show. Once they are in, they don't pay any extra fees, and they can text chat with the camgirl.
Click here to join streamate for free
The daily spending limit feature
There is a daily spending limit by default. Thus, once you reached the limit, you are automatically disconnected from a private webcam chat and you will not be able to spend money on the website for 24 hours. That's why streamate is one of the best websites to protect you from camgirl addiction. If you fear being addicted to camgirl websites. I would encourage you to only use streamate since you can keep control of your budget thanks to the daily limit feature. I think streamate is the only camgirl website with a daily limit.
Streamate price rates:
Streamate.com is cheaper than competitors regarding chats with celebrity pornstars. Nevertheless, prices are usually higher on average regarding the regular camgirls as compared to other live sex chats that are designed for cam2cam (Livejasmin, Imlive, Camcontacts). The quality of a camgirl often explains her price rate. The criteria for a good streamate camgirl should be her English proficiency and her willingness to do a live sex show in private chat.
Here are some examples of rates in the private chat mode (not exclusive).
Pornstars rates sit between $3.99 and $5.99
Regular camgirl prices lie between $1.90 and $4.99
Some camgirls offer discounted chat sessions also called block sessions. This is a discount for a chat lasting 30 minutes to 60 minutes. Unfortunately, few camgirls offer block sessions.
Streamate may be more expensive than other camgirl websites. However, it is better to spend 15 minutes with a good english speaker who understands everything you ask than 15 minutes with a woman who pretends to understand your question or your order. Compared to other websites, since streamate camgirls are more skilled and understanding the high price-per-minute is not so essential. You can really enjoy Streamate if you use the daily spending limit.
Streamate billing system:
The only method of payment at streamate is the credit card. You must add your credit card details when you join streamate.com. No worries, I have never been charged for no reasons. The payment system is an instant pay-per-minute billing. It means you are billed after going to a private show for the time you spent with the host. We never experienced any problems with the streamate payment gateway.
I strongly advise you to use a prepaid mastercard instead of your bank card with Streamate to prevent payments being declined.
You must top up your streamate account before entering a private chat room. Then, you account is charged according to the model price-per-minute.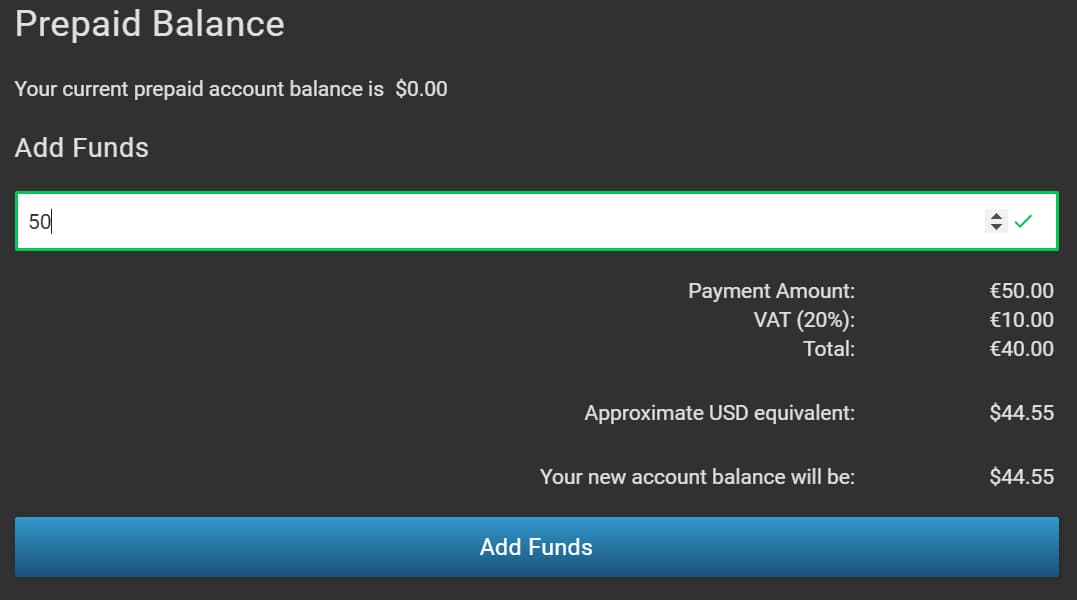 Tags added by users
Streamate has a feature that I didn't see anywhere else. Users can add tags at the bottom of a camgirl description. It helps to know what you can find in a private chat session with the camgirl. Tags are keywords. Tags give more insights of the camgirl personality, willingness, live sex shows, body characteristics.
Here is an example of keywords you can find on Streamate:
Anal (3) Beautiful Tits (2) Best Squirter (2) Brackets (2) Implants (2) Perfect Tits (2)Squirts (2)A Lot Of Sexy (1)Adorable Beauty (1) Amazing Ass (1) Anal Dildo (1)Atm (1)Average Show (1)Ball Gag (1)Beautiful (1)Big Dildo Cock (1)Big Squirt (1)Big Tits (1)Creampie (1)Cum Target (1)Cute Braces (1)Cute Lil Tits (1)Deep Throat (1)Excelente Squir (1)Face Fuck (1)First (1)Gagging (1)Good Show (1)Grand Slam (1)Great Anal (1)Great Body (1)Great Boobs (1)Hot (1)Hot Sexy Feet (1)Hot Squirter (1)Lovely Face (1)Lovely Hair (1)Messy (1)Multiple Squirt (1)Nice Tits (1)Ohmibod Toy (1)Phenomenal (1)Romanian Beauty (1)Satin Panties (1)Screamer (1)Sexy (1)Sexy Accent (1)Sexy Long Toes (1)Sexy Voice (1)Slim Super Hot (1)Sloppy (1)Squirt Queen (1)Sweet Titties (1)The Best (1)Topless (1)Topless Babe (1)Toys (1)

Example of keywords that you can find.

You can perform a search using these tags. For instance, let's imagine you look for every streamate camgirl with the tag "anal dildo". you can type in your address bar: "streamate.com/tag/anal dildo"
You can also type anal dildo in the search field to return the camgirl with the anal dildo tag in their profile.
So tags can be really useful, if you look for a specific sexual fetish (example: BBC cuckold), a body characteristic (example: long legs, lovely hair) or a sex show (example: big squirt, face fuck, ball gag.)
So, let me explain to you how you can use it. Imagine you have a sexual fetish, a body characteristic, a sex show in mind. Think about the keywords that could be related to it. Then, in your address bar: type: https://streamate.com/tag/keyword where "keyword" is your keyword. Leave a normal space between words and press enter. It will return the list of camgirl for what you are looking for. Then, click on a thumbnail and scroll down to the bottom of the profile. Check the tags. When you are satisfied, I encourage you to click on the heart icon to save this camgirl in your favorites.
Share your fetish on streamate
As I explain before, it is possible to type a keyword related to your sexual fetish to find a camgirl who was tagged by a previous user for this fetish. For example, if you type "cuckold" in the streamate search engine, it returns a list of camgirls where the camgirl profile has the "cuckold" tag. In other words words, it means that someone had a private chat session with a camgirl and found that a woman performed a cuckold roleplay. Then, after the chat, he added the "cuckold" tag to the list of tags at the bottom of the said camgirl profile. So, It means that a user endorsed this camgirl for a cuckold roleplay. He had a good user experience during private chat. You can talk about your fetish by text, in an audio chat, or a cam2cam chat. Streamate is one of the best websites to share your sexual fetish. Since the streamate women understand and speak english well, they can understand your sexual fetish too. Rather than saying: "yes", "no" they can speak a lot and help you to get aroused by talking naughty. Streamate is not a cheap website. However, since the camgirls speak english well and since they are sexually advanced, they can help you to make you horny and help you to have a strong orgasm.
If you want to talk about your fetish with a streamate camgirl, I would encourage to tell the camgirl what you want as soon as you enter the private chat, otherwise you are going to waste time and money. If you are not satisfied by the camgirl, just leave the private chat.
Best camgirl site for a private chat/show with an American camgirl
Streamate is the best website if you want to attend a live sex show in a private chat session with an American camgirl. On chaturbate and camsoda, there are American camgirls but they may be busy doing a live sex show in their public chat room. On the other hand, there is no free live sex show on Streamate. This means that the American camgirls of streamate are instantly available for a private chat session. You don't have to wait to speak to a camgirl on Streamate. You just have to press "private chat" and you will be brought to a private chat instantly. On chaturbate or camsoda, camgirls may be busy talking to the members of her public chat room. Consequently, she may not accept a private chat on chaturbate or camsoda. On top of that, as I explained before the list of tags allow to determine what you can find in a private chat.