Camcontacts.com is the place for those looking for natural girls-next-door from Ukraine, Russia, Romania, Colombia, Africa and Asia.
Click here to join camcontacts.com for free
Natural beauties:
Camcontacts.com is the best webcam chat site if you are looking for naturally beautiful camgirls without fake breasts, plastic surgery & heavy makeup. That's also a place where you can find camgirls who don't work for a studio but connect from their home. The video streaming quality is not as good as Imlive, Streamate or LiveJasmin but the girlfriend experience and the cheap price rate compensate for the lack of a good video streaming quality. Anyway, we can't expect Eastern European women, especially Ukrainian women to have an HD webcam and a professional internet connection. Consequently, "Camcontacts" is for the adventurous guys.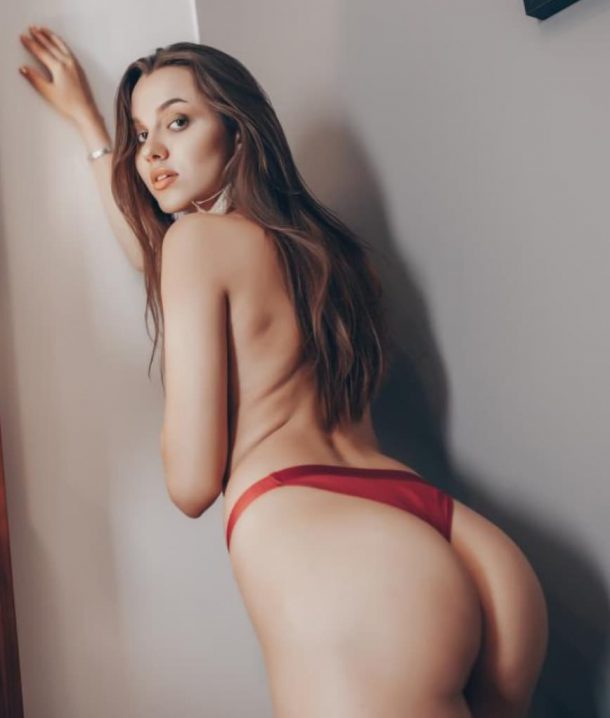 This adult webcam chat site also features categories for those looking for female domination, financial domination, latex, high heels' fetish.
Home of amateur camgirls
If you are looking for amateur camgirls, I recommend camcontacts.com. This website features many women who aren't porn stars. Many among them are shy to talk about sex. They aren't sexual plastic dolls who start playing with their vagina as soon as you enter a private chat. Many camcontacts.com camgirls are the opposite of professional porn stars. Consequently, when you talk to a camcontacts.com camgirls, you feel like you talk to a real-life woman.
Most of the camcontacts camgirls are from Ukraine and Romania. Ukrainian women don't understand English so well. Many camgirls need to use a translation website to interact with you. It is normal, a Ukrainian woman who never traveled can't speak English well. So, if you are looking for chatting with spontaneous women who don't play a character, camcontacts.com is a good option.
Most of them aren't professional. They rarely work as a camgirl for more than one year. They likely don't play a character during private chats. That's why some of them provide a good girlfriend experience.
Good price/quality ratio:
Those women are from Russia, Ukraine, and Romania so that they often don't always understand English well. Interestingly enough, I spotted some camgirls who also had a profile on LiveJasmin or Streamate and had a cheaper price rate on camcontacts for a private chat session.
An open chat session starts at around $0.90 per minute
a private one2one session starts at around $1.90 per minute (cam2cam possible)
Camcontacts.com has the camgirls with the cheapest price rate for a private chat. Nevertheless, some camgirls don't activate their audio chat because they don't understand English well enough. It is not such a big problem because of the cheap price rate.
Sharing URLs with camgirls
Camcontacts.com allows a user to copy and paste a URL in the text field of the messaging interface. This means you can send a porn movie URL to a camgirl for her to watch it just by clicking on the link. If a model can't see your URL for some reason, you can send the link to the camcontacts.com message inbox. For your information, it does not always work because some camgirls are in Russia and Russia blocks most porn websites from the west.
Click here to join camcontacts.com for free
Write a private note about a model
You can add a private note to a model in your favorites on camcontacts.com. For example, imagine you use to chat with several camgirls and you want to remember what you said, the topic of your conversation, her personality treats, her body specs, you can leave a note under her nickname in your favorite. We didn't see this feature anywhere else on a camgirl website.
Dating a camgirl is possible:
Camcontacts.com has non-nude non-sexual chat rooms. Those chat rooms are: "long-term / Marriage," "make new friends" and "Glamour Girls." This camgirl website acts as an online video dating website. Many camgirls come from Russia and Ukraine and most of them are single.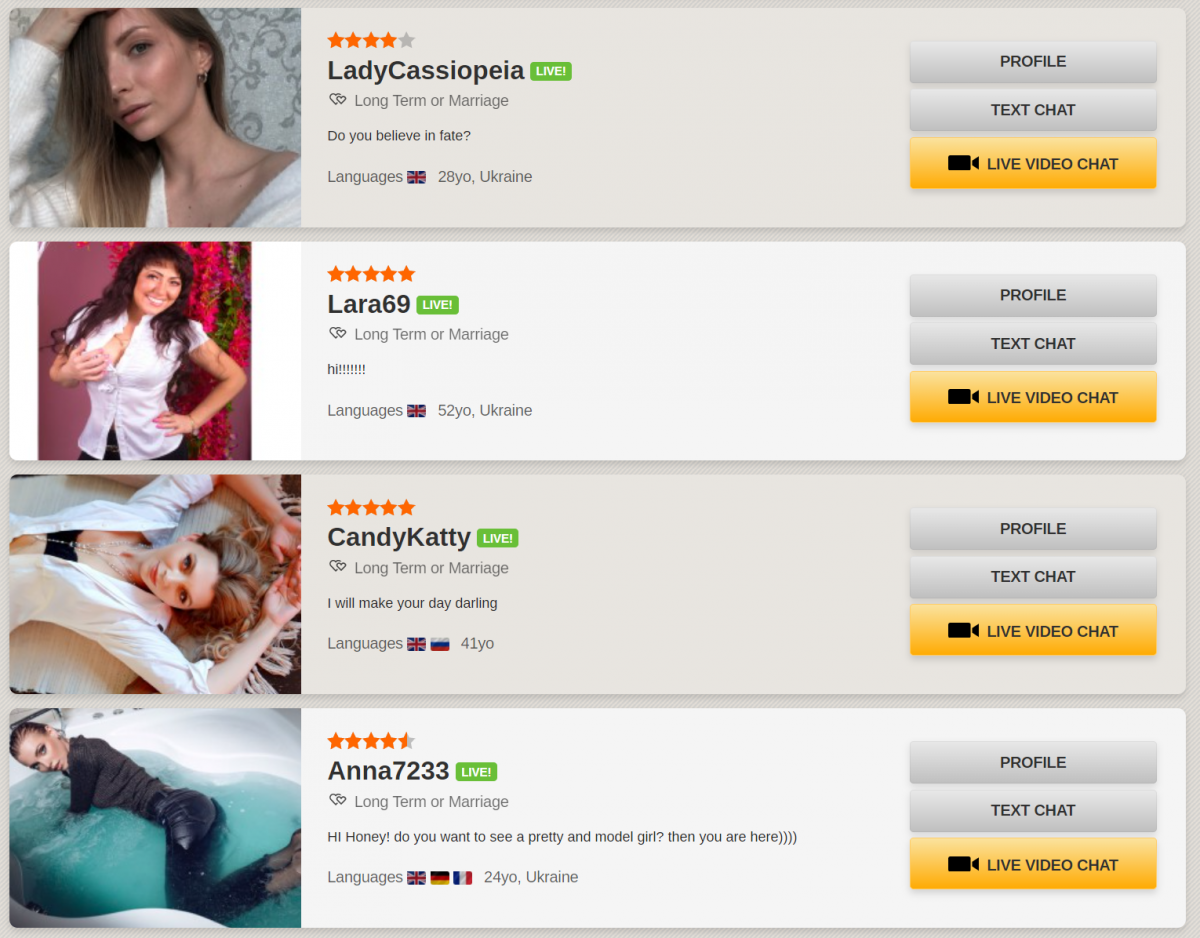 Female domination:
Camcontacts.com has a category dedicated to alternate sex called "Dungeon" where you can find camgirls who will agree to do female domination, humiliation, submission, SM. That's a good place to find mistresses or slaves for a 1 to 1 private chat without ruining yourself. A fetish category is available for those who are into nails, high heels, toes, stockings, lingerie, PVC, rubber, latex. This category is simply called "fetish." I do advise you to read the description of a camgirl to know her sexual fetishes.
Strip card game:
Camcontacts.com has a strip card game. You can play against a camgirl to get her naked. Strip Hilo is the website strip card game. You just need to go to the Strip Hilo category to visit a camgirl chatroom that play Strip Hilo.
Description of Camgirl chat categories:
"make new friends": Non-adult webcam chat – You only chat with camgirls. There is no nudity. If you don't want to talk about sex with a woman, I would encourage you to visit this category. Many single Ukrainian and Russian women choose this category when they start working as camgirls.
"Long-term Or Marriage": Non-adult webcam chat. It is a category without nudity. From what I understood a camcontacts camgirl isn't allowed to share a personal details with you but you can share your personal details with her.
"Glamour Girls": Adult Soft core – Adult behavior & camgirls are ok to get naked. It is a good category because the women in this category are versatile. They can talk about relationship, relationship problem, love, sex.
"A little shy": Adult Softcore – Camgirls agree to get naked. in this category, women are willing to talk about sex but it requires them to take time. This category suits ukrainien women perfectly. They can't perform live sex shows in front of their camera because pornography is prohibited in Ukraine. So, they can only wear lingerie or swimsuit.
"Strip Hilo": strip card game – Camgirls can strip and do a sex show.
"Not so shy": Adult hardcore webcam chat – Camgirls agree to chat, get naked and do sex shows. Some camgirls who don't get naked may have infiltrated this category. There is a reason for it. As I said before, Live pornography is forbidden in Ukraine. In other words, many Ukrainian women don't get naked on webcam.
"Instant action": Adult hardcore webcam chat – Camgirls are ready to strip and perform live sex shows.
"Fetish": For those, who have a fetish for nails, hands, pantyhose, latex, uniform, lingerie, PVC, high heels, bondage, dommes…
"Gender benders": For those interested in live transgenders on webcam.
"groups": For group sex on webcam
"Girl/Boy – couples": For watching amateur couple sex on webcam
"Girl/girl": to watch two girls in a same-sex love sex show.
There is no free live feed. Nevertheless, there are in general lots of pictures in the profiles of webcam models.
Click here to join camcontacts.com for free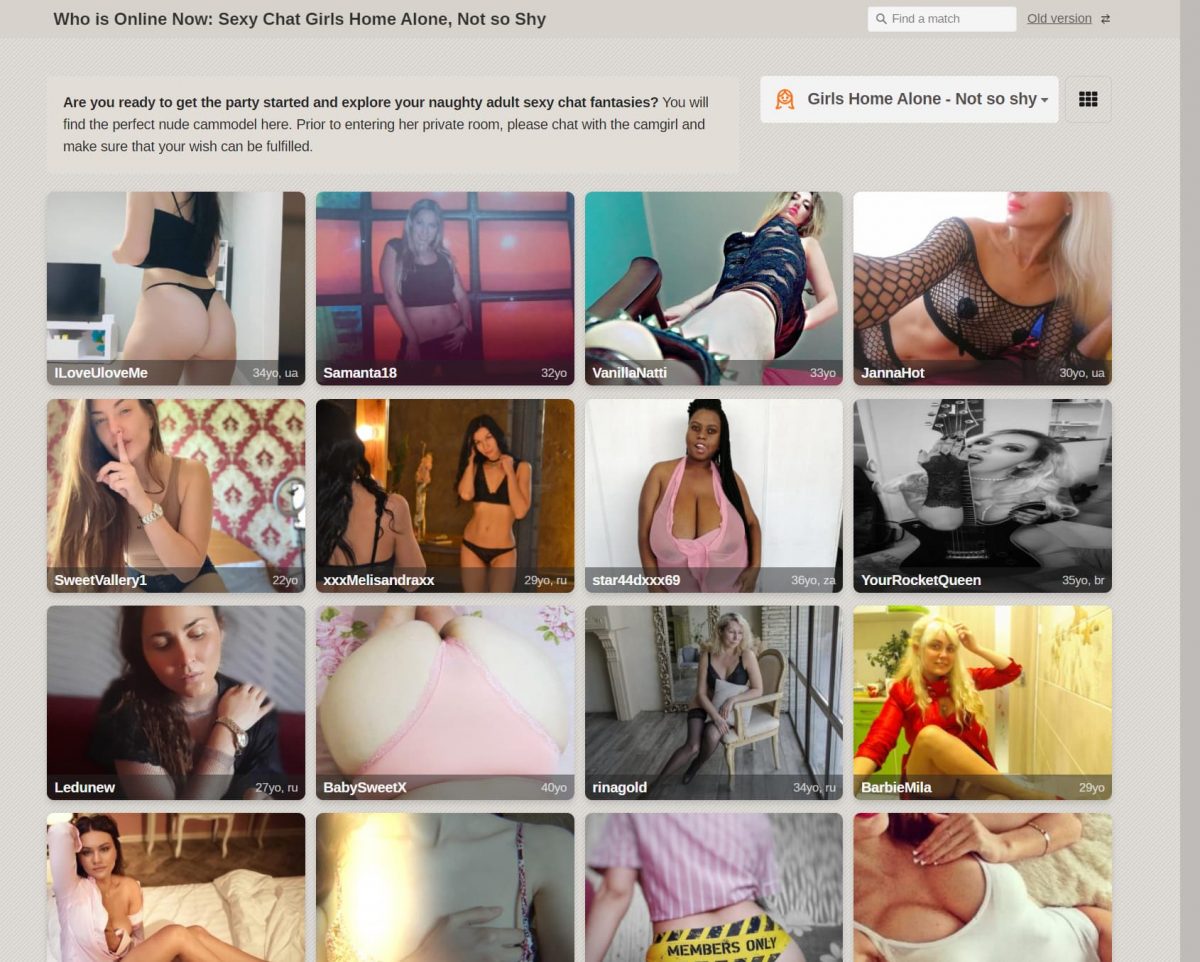 Camcontacts billing – no tokens – no credits – currency only:
the camcontacts billing system is an instant pay-per-minute billing using a debit card. You are charged in your currency. What you spend is really what you used. It is the most transparent type of billing system when I compare it to other systems where you are forced to buy credits or tokens before using the service. Moreover, since the price rate per minute is displayed in your currency, you can easily predict how much money a private chat/show is going to cost you on camcontacts.com.
For example, if the price rate for a cam2cam is 2.90 dollars/minute, you know that after 10 minutes, it will cost you 29 dollars. On the other hand, when a camgirl private chat costs 44 tokens per minute, you have no idea how much it will cost you. You must convert tokens into dollars/euros to understand how much it costs. So, it is good that camcontacts.com has no token, no credit system.
Camcontacts allows to add several credit cards details and activate the card that you wish to use.
Use a prepaid card
If you are located in the USA, I advise you to join privacy.com to get a virtual visa card for free to protect your privacy.
A prepaid card will prevent to get your card declined by your bank. Some banks are also intrusive and may notice that you are charged several times by CCbill the processing payment company behind camcontacts. So, I strongly recommend you use a prepaid card right from the beginning if you want to use camcontacts.com. It protects your anonymity and privacy when using camcontacts.com.
important advice to camcontacts users
Use the search engine of camcontacts
Camcontacts features a powerful search engine. You can use it to find webcam models according to your criteria like country, language, body type, fetish, sexual orientation, hair color, eye color, bust size, ethnic origin and even zodiac sign. Moreover, it allows you to find offline webcam models. So, with all of that in hand, you can browse camgirls according to your criteria, send them a message and set an alarm to receive an email when one of your favorite camgirls is online.
Contact offline camgirls
Many quality camgirls didn't come online since a long time and that's why it is worth encouraging them to go back online. When you browse camgirls after performing research, you will stumble upon offline models. Send the beautiful camgirls an offline message to encourage them to go back online. If she answers you, you will also receive a message. On her profile, you can click on "favorite & alert" to receive a message next time she will be online. This action will help to increase the number of beautiful women on camcontacts. I suggest sending a message that says: "i found on you in the list of camcontact, you are cute, i want to chat with you".
Take the time for quality rather than quantity.
Take the time to browse webcam models and choose your favorite. We wrote an article to help you to choose a camcontacts.com camgirls. I tell you so because there is a wide variety of camgirl quality on camcontacts. Some camgirls are fluent in english, some camgirls must use a translation website. Some camgirls are willing to chat, and some camgirls are really slow to answer. Since the rates-per-minute are cheap, you can enter many chat rooms and find the best women for you.
Don't waste money for nothing
Don't start with a chat in an one2one chat mode. Choose the open session mode instead. Don't turn on your webcam. Start to text chat with the camgirl. Switch on your webcam only if you see that the camgirl is willing to interact with you. Then, switch to the one2one mode, if you feel comfortable with the camgirl. Also, don't overrate a camgirl after you had a chat with her. If you are not satisfied by a camgirl behavior, leave without saying goodbye. This is how you can save money and get the best camgirls.
Please don't give too many stars to a camgirl after a chat. If she used a translation website, give a maximum of 4 stars. This will help other users to easily identify camgirls who really speak english. Also, leave a user comment on the camgirl profile to help other users of camcontacts.com to find their best camgirl. Don't write a rant otherwise the camcontacts support team will remove your comment. Write a comment that is helpful to other users like: "she is not a nude model" "Her microphone is off and this chat room is only good for a text chat".
Use Yandex translate
I encourage you to use the "Yandex translate" webpage with women who don't speak english well during a private text chat session. Most of the camgirls on Camcontacts are either from Ukraine or Russia. So, they all speak Russian. If you type your sentences in Russian, you save a lot of time otherwise she must copy/paste your sentence in a translation website. The Yandex translator detects the language and convert it either in Russian or English. So, for instance, if a camgirl writes a sentence in Russian, you can paste this sentence in the first box of the yandex translate page and it will convert it in Russian. If you type a sentence in English, it will automatically convert it in Russian. This Russian/english translation is the default mode of Yandex translate.
For who?
camcontacts.com is the best website for men who are looking for long private chats with hot women. For your information, Another camgirl website for this purpose is Imlive.
This camgirl website will please men who want to talk about sex with a girl-next-door, sexual fetish, do a role-play, show their penis in cam2cam, chat in cam2cam, interact with a domina.
However, it does not mean that camgirls of camcontacts.com don't get naked during a cam2cam. Don't get me wrong. The "instant action" category serves this purpose. It just means that you must enter a chat room and talk to the camgirl. For sure, the outcome is variable because people are human. So, you must be indulgent if you use camcontacts and be ready to try many camgirls before finding the right ones for you. You never pay in advance on camcontacts. Consequently, you are not going to be angry at the website because if you don't like a camgirl you can end the chat session right away without losing money.
Ukrainian camgirls and the Ukrainian legislation problem:
Several Ukrainian camgirls never get naked on webcam because pornography is prohibited by law in Ukraine. This means that they can show their underwear, but they can't perform live sex shows. In reality, Ukrainian camgirls don't risk anything if they perform live sex shows on webcam as long as they block visitors from Ukraine. The Ukrainian authorities can't see ukrainian camgirls. Nevertheless, in practice, few Ukrainian camgirls get naked on camcontacts.
Find the bargain
Camcontacts.com features some Ukrainian women who speak and understand English. The price per minute of those Ukrainian women is low as compared to what you can find on other websites. So, you can chat with a stunning Ukrainian woman at a low price for 1 hour. We found private chats at the price of $60 an hour and $90 an hour for a one-to-one chat session! For Eurozone residents, you will pay 50 euros an hour, 94 euros an hour for a one-to-one chat session.