Chaturbate is a camgirl website where you can see women, men, and couples performing live sex shows in front of their webcams. It is a camgirl tipping website. You can enter a public chat room for free and attend a live sex show. Then, Chaturbate camgirls operate thanks to tips. The webcam models start a sex show after someone tips them. Usually, they mention in their description how many tokens are necessary to start a sex show. It is also possible to start a private chat. Cam-to-cam is not available from the private chat page.
Good for amateur live sex shows:
Chaturbate is good for watching live sex shows with real amateur couples, groups who perform from their house or apartment from all over the world. We think that Chaturbate is the best website for live amateur sex shows with gorgeous amateur women. If you are looking for live amateur sex with women who have no makeup and no breast implant, visit chaturbate.
Chaturbate is good for watching live group sex, live gang bangs, live threesomes, live couple sex shows performed by amateurs on webcam. For example, after entering a public chat room, you can watch a double penetration. The picture below was taken from a chaturbate live sex show. This woman took simultaneously a penis in her anus and vagina live on webcam. Double penetration is not common on other camgirl websites.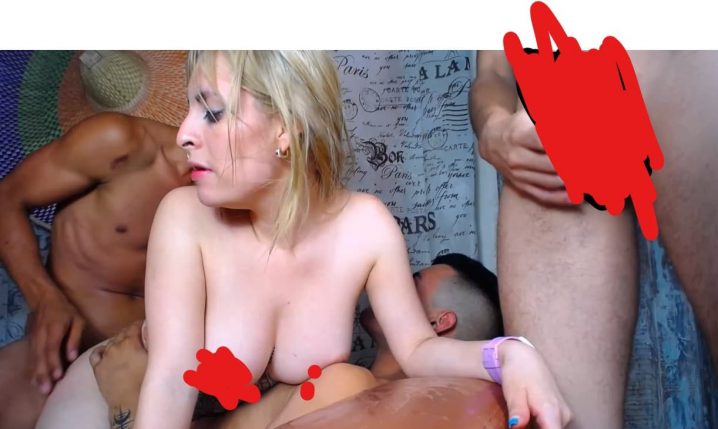 You can find chaturbate camgirls from countries like Colombia, Brazil, USA, Italy, Romania, Spain, Australia. Most of the camgirls come from Europe, South-America & North-America.
So, you can attend a live sex show where a woman fingers her vagina, use a dildo, reacting to a clitoral stimulation, gets penetrated by a man, sucks a man. She can also get a cunnilingus (Her vagina is being licked by a man or a woman)…
Click here to join Chaturbate for free
Remotely trigger the vibrator of a camgirl
Ohmibod or lovense are bluetooth sex toys that are placed near the clitoris. When a chaturbate visitor tip a camgirl, the device vibrates, and they can watch her reaction. For this to work, the camgirl has to put the vibrating sex toy inside her vagina or next to her vagina.
The duration of the vibrations varies depending on how big the tip is. The biggest the tip is and the longest the vibrations will last. The chaturbate visitors watch the effect of the sex toy vibrations on the camgirl in real-time. This also proves that the show isn't a recording!
So, Chaturbate is great for users who are looking for instant live sex shows. You don't need to wait for watching a live sex show of a woman on chaturbate. Usually, once they get tipped the camgirl starts her show right away.
A place full of instant great performances in live sex shows:
You can find on chaturbate many stunning camgirls who broadcast live from their bedroom, kitchen, living room.
You can find a wide variety of hot camgirls on chaturbate like women with huge natural breasts, tall slender women, women with long legs and a flat belly. There is a wide variety of ethnicity on chaturbate. Some look Mediterranean, Slavic, Nordic, latin american.
Click here to join Chaturbate for free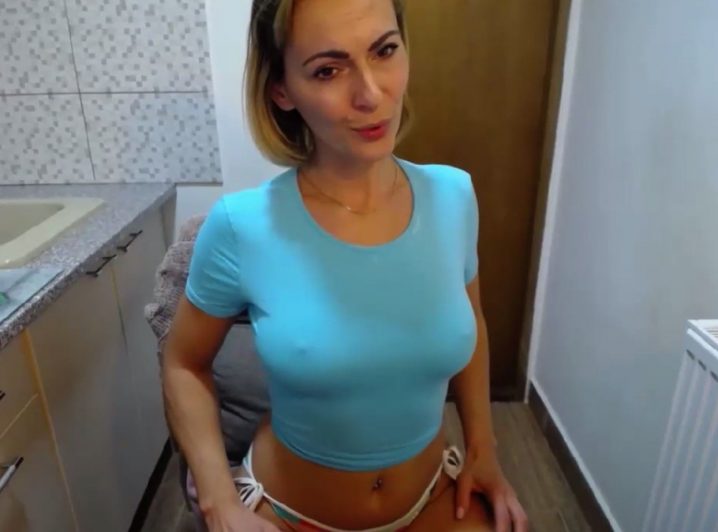 The methods of payment:
Chaturbate allow you to pay via PayPal, Paysafecard, and bitcoins, visa, master card, discovery and even wire transfer. The card statement records are anonymous if you choose to pay via Epoch, Paypal, Cryptocurrency and paysafecard. Those payment processors are independent of chaturbate. This means that your details are not transmitted from the payment processor to chaturbate. It is advised to use a prepaid mastercard or visa card instead of your bank card to avoid payments being denied when you buy tokens on chaturbate. It also protects your privacy.
The downsides of Chaturbate:
Private chats
Many chaturbate camgirls don't allow guest to enter their private chat room. They may accept a group show but it is not going to be an exclusive private chat. Sometimes, you ask a chaturbate camgirl for a private chat, but she does not accept it. So, if you are looking for an intimate one-to-one chat session, chaturbate may not be for you and you better check Streamate or Livejasmin
No cam-to-cam feature
Cam-to-cam is not a default feature of chaturbate. It means that when you click on "start private show" on chaturbate you can't turn on your webcam. You can only chat by text with the cam model. There is a workaround. The workaround would be to open a new page of chaturbate in a new tab and click on "broadcast yourself". For this to work, the cam model must know how to be able to watch you and when she watches you, she will not see what she does on her web page while she is watching you. As you can see it is complicated. I tried to have a cam-to-cam private chat on chaturbate and I failed several times. The broadcast of my webcam didn't work. If you are looking for a camgirl website with a cam-to-cam feature don't use chaturbate.
Lack of offline messaging system
You can send a message when a camgirl is offline under the form of a tip. Nevertheless, she can't send a message back to you.
There is a website with all the features of chaturbate without its downsides. Its name is stripchat. Stripchat includes a messaging system and a cam-to-cam feature. However, I must mention that there are more beautiful women on chaturbate than on Stripchat usually.