First, it looks like soulcams.com is a good website for those looking for a private webcam chat with a beautiful woman. We didn't spot a live sex show in a public chat room. Everything happens in private and this has a big advantage. It means that when you enter a public chatroom, a camgirl is available for you. You can instantly enter a private chat room with a beautiful woman. You don't have to wait for a camgirl to finish a live sex show. On soulcams.com, you can find all the information you need on one page. The chat room, the online chat area, the personal details, the description, the webcam model pictures and the user reviews perfectly fit on one page.
Soulcams has two private chat modes:
The standard chat mode: you can chat with the camgirl. Other members can enter the chat but they can't read what you type. You can turn on your webcam.
The one-to-one chat mode: In this mode, no one else can enter the chat. You can switch on your webcam to chat in a cam-to-cam session in this mode.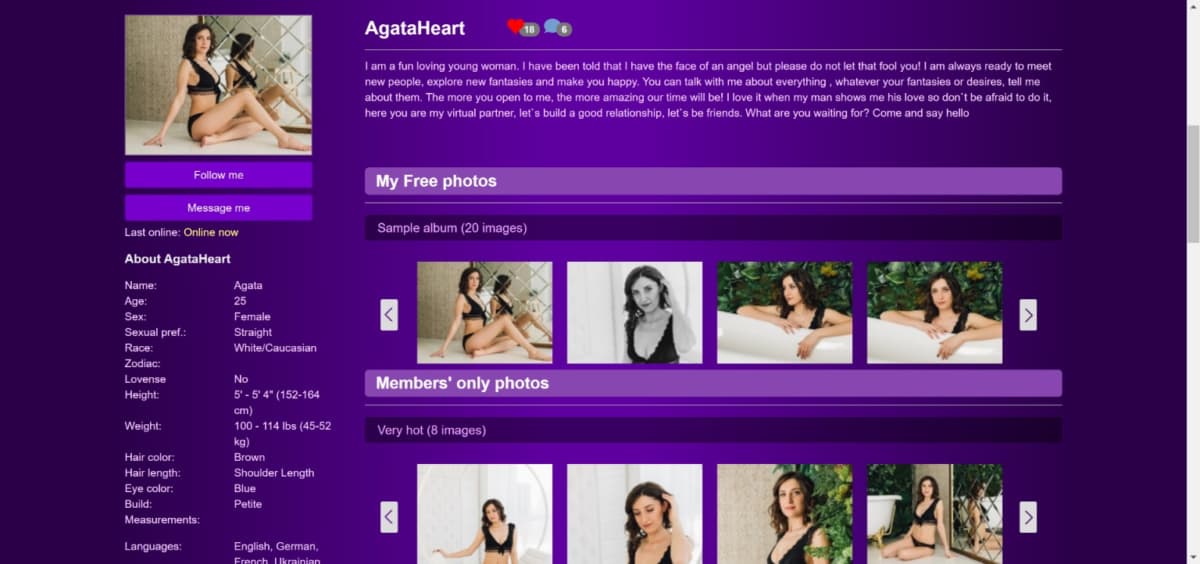 camgirl quality:
All the camgirl streamed videos were of good quality. We never found a choppy, dark, pixelated webcam video. The camgirls are all attractive. There aren't many active chat rooms at soulcams.com but many of them high-quality camgirls. Since user reviews are displayed on the profile of a camgirl, only the best camgirl are left.
Compared to other websites, I find the soulcams.com camgirls less sophisticated, more natural. If you are looking for camgirls who look more like girls-next-door than porn stars, you should try soulcams.com.
Many camgirls are Russian or Ukraine and they don't speak English well. Be indulgent.
Click here to join Soulcams.com for free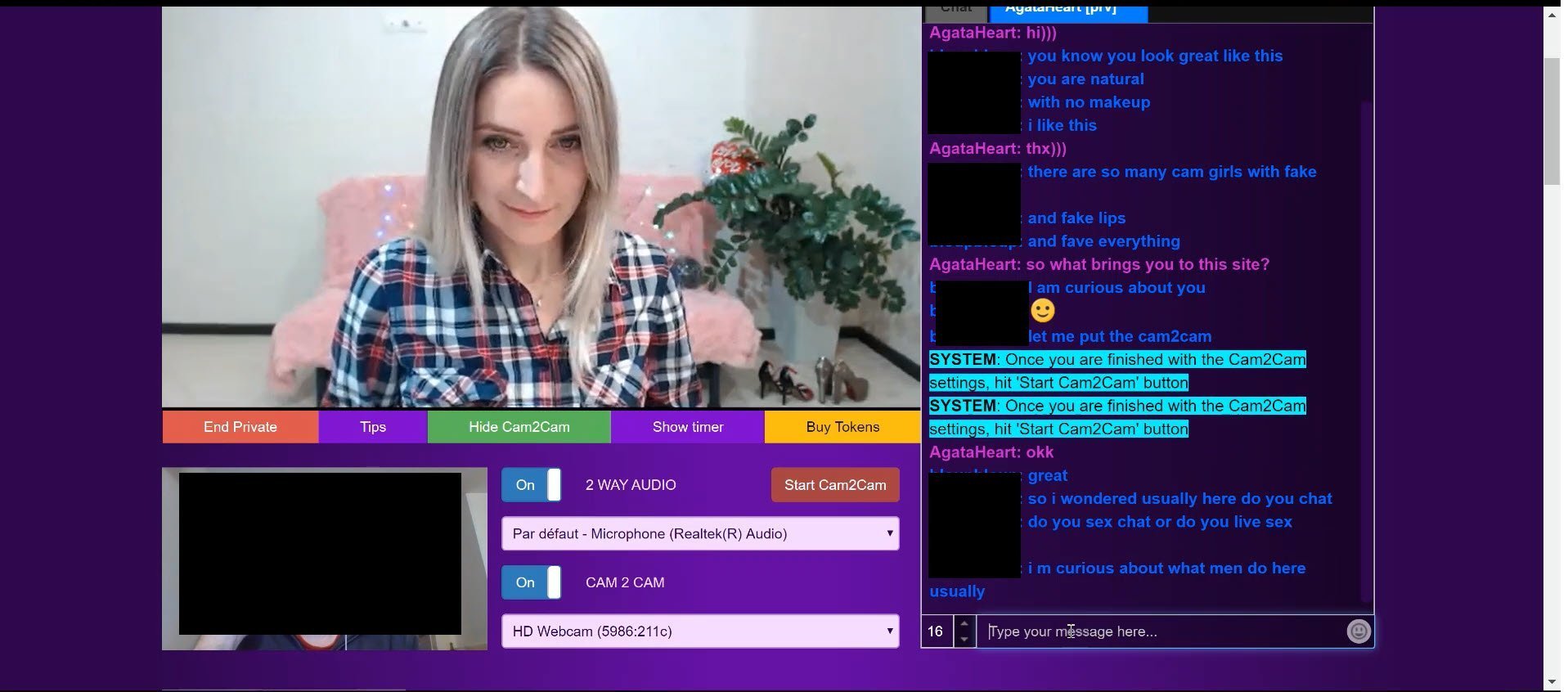 Private chats
We entered a private chat room. We opted for a standard private chat session. You can either chat with a camgirl using your webcam in a 2-way audio/video or in a text chat.
All private chats start in text mode, so that you can't activate your webcam by mistake. After clicking on "start private" and then "standard" or "private", you must click on "show cam2cam and then on "start cam2cam". As you can see there are many steps before activating your webcam.
soulcams.com allows you to switch off either your audio or your webcam during a private chat. You can even select a different audio or video input during a private chat with a camgirl. It is great for those who have several microphones or several webcams.
You can share a URL with a camgirl
You can share a URL with a model during a private chat. So, she can see a picture that you shared on Google Drive, onedrive. They can't click it, but they can select it, copy and paste it in a new browser tab to visit it. You can share clickable links from the following domains: soulcams.com, youtube.com, youtu.be, twitter.com, pornhub.com, redtube.com, giphy.com, xvideos.com, tenor.com, 9gag.com
In other words, soulcams.com is great if you want a camgirl to watch a pornhub, redtube or xvideos video that you sent her during a chat.
As you can see below, the chat interface is simple to use. The screen contains only the necessary information. Every button has a text label instead of an icon so that you know why it is for.
Skype chats with camgirls
Soulcams.com allows camgirls to get paid on soulcams.com and chat on Skype. I used to say that Skype wasn't so good for intimacy. However, soulcams.com has a great asset, the user comment area. So, if something goes wrong you can leave a comment on soulcams. Soulcams.com has safe payments processors. So, you can safely pay on soulcams.com for a skype chat.

Messaging feature
Send an offline message to a camgirl for free & send her your pictures
Soulcams.com allows members to send offline messages to webcam models. It is even possible to upload an image and attach an image URL to an offline message. In other words, a user can take a picture of his penis and send it to a webcam model on soulcams. Additionally, sending a webcam model a message is free on soulcams. Users can send a link to a porn movie or to a picture in a message. So, it means that soulcams.com members can exchange links to porn movies with their favorite camgirls.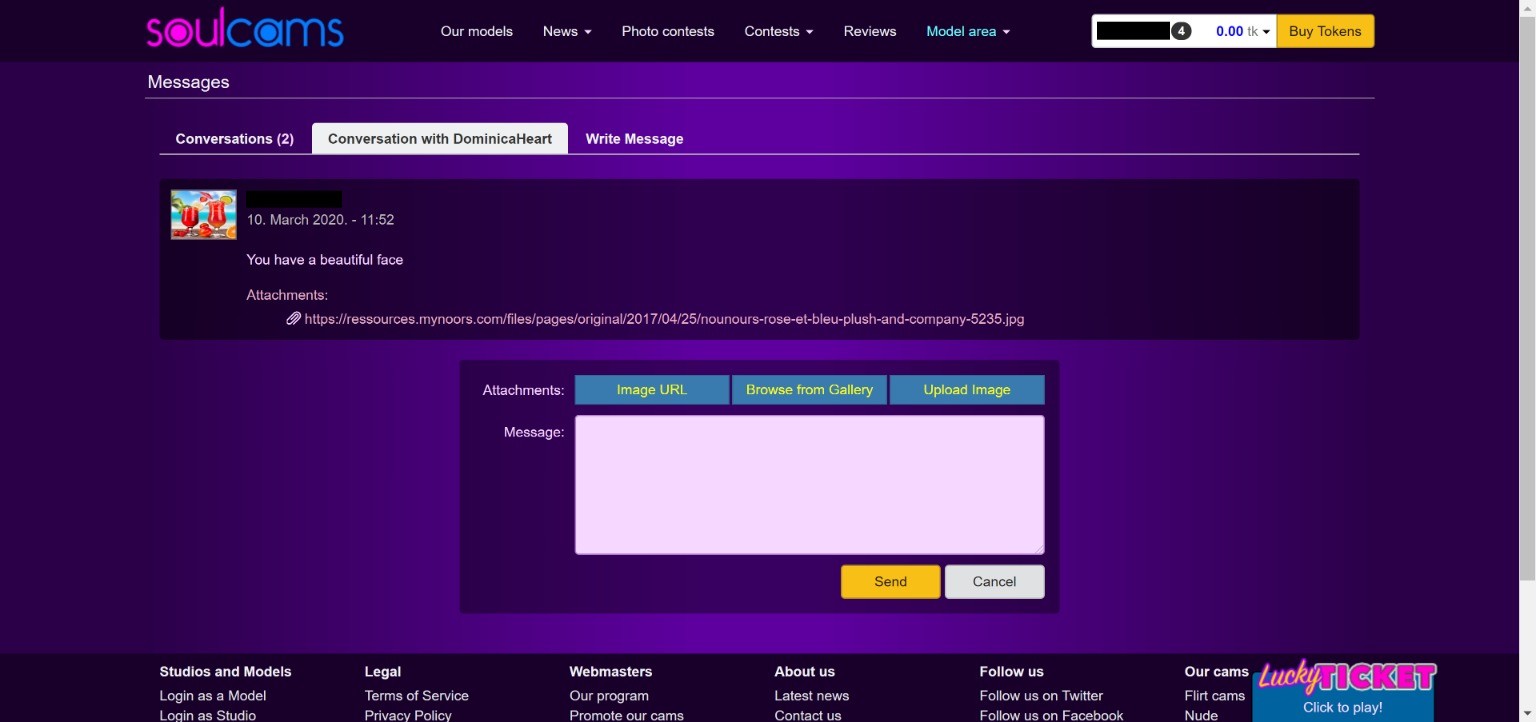 Email notification:
You can click on the "follow me" button of a camgirl's description and receive an email notification when the said camgirl is online.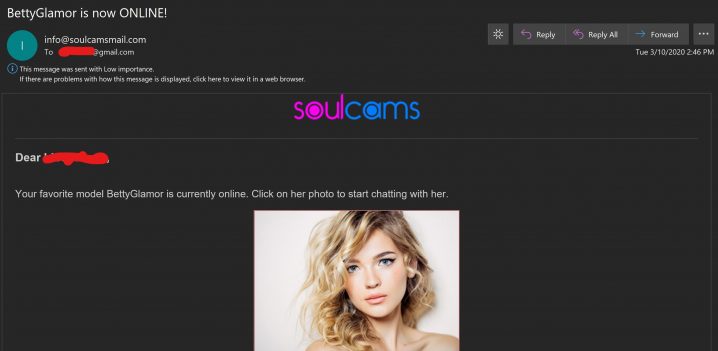 Advice to find an all-natural sexy camgirl on soulcams
Take the time to browse offline camgirls. soulcams camgirls don't spend many hours online. Right-click on a thumbnail and open the profile a camgirl in a new tab. Then, click on the "follow me" button when you want to receive a notification if she is online. When you find a beautiful camgirl, take the time to read her profile and user reviews. Then, send her an offline message to encourage her to come online. Expect to scroll dozens of pages before finding your kind of woman. Right click on the thumbnail of a camgirl to open a new tab so that you can keep the page with the list of camgirls and you don't need to start from page 1 again. Soulcams.com is about quality rather than quantity.
User reviews
Users can leave a comment about a camgirl. Those comments are below the chat room. This guarantees that the soulcams.com camgirls are good. I think that this comment area contributes to the soulcams.com camgirl quality. I have noticed that it didn't work like this on other websites. Some camgirls behave badly, on other camgirl websites without getting caught because there aren't any user reviews. On soulcams.com those entitled unprofessional camgirls can't get away with it. Soulcams.com is one of the few camgirl websites with a useful comment area. (You can also find a user review area on Imlive and camcontacts).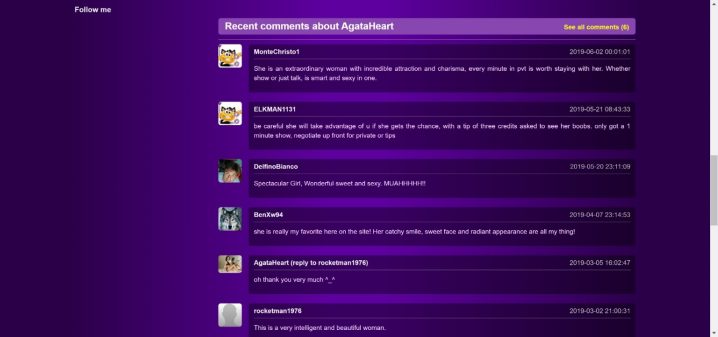 Click here to join Soulcams.com for free
My opinion
Great for a private chat
If you want to flirt with a nice & beautiful woman online, soulcams.com can be an option. This is not marketing. I just compare soulcams.com with other websites. I have found that on tipping websites women were greedy and wanted as many tokens as they could. So, for instance, they encourage men to tip to get naked or engage in solo sex. Those women don't want an intimate chat. That's why tipping websites aren't suited for private chats. On such website, It can be frustrating for a customer to try to enter a private chat and being forced to wait for her to be available. That's why soulcams.com is much more interesting for a private chat if you want to chat in a private chat session with a woman.
A german website = sexual freedom
Germany has great laws around sex work. That's why this camgirl website has terms that are less tight than American websites. Nevertheless, I must mention that live pornography is prohibited in Ukraine and Bulgaria. So, if you chat with a Ukrainian or Bulgarian camgirl on soulcams.com she may not want to get naked because she does not want to be in trouble with the local authorities. For your information, I have never heard of a camgirl's arrest in Ukraine or Bulgaria because all those camgirls block visitors from Ukraine and Bulgaria. The Bulgarian police or the Ukrainian police can't use a VPN to track Bulgarian or Ukrainian camgirls.
Also, the soulcams.com team does not spend his time spying on members and camgirl during private chats.
Payment processing and anonymity
The soulcams.com payment methods to buy tokens are Visa, mastercard, Visa electron, visa carte bleue, JCB, discover, Ideal (netherlands), Bancontact, Paypal, Paysafecard, Sofort, Wire Transfer. Soulcams.com never appear on your bank statement. When you buy tokens, the description of the expense on the bank statement of your card is "anonymous". You will see something like "FL*MEDIA 3943334 DEU."