StripChat is a hybrid camgirl website. It is both a tipping camgirl website and a private chat website.
You can watch a live sex show in a public chat room and then you can tip the camgirl if you want to see a specific live sex show. Some camgirls wear an interactive vibrator (the lovense lush) that vibrates when you tip a camgirl. You must buy stripchat tokens first to tip a camgirl. Then, you send tokens to the webcam model of your choice. In the public chat room, you can see a joystick icon near the text field at the bottom of the chat area. Click on it and you will see the types of sex shows you can get from the chosen camgirl. Your tip can trigger all sorts of actions: She may show her feet, her butt, her breasts, get fully naked, spank ass, plug something in her ass, give a dildo a blowjob, take off her panties, change her clothes, oil body, shake her booty, twerk, dance naked, finger her ass, use a butt plug, use a dildo, finger her pussy, show her pussy to the webcam, use a clitoral vibrator…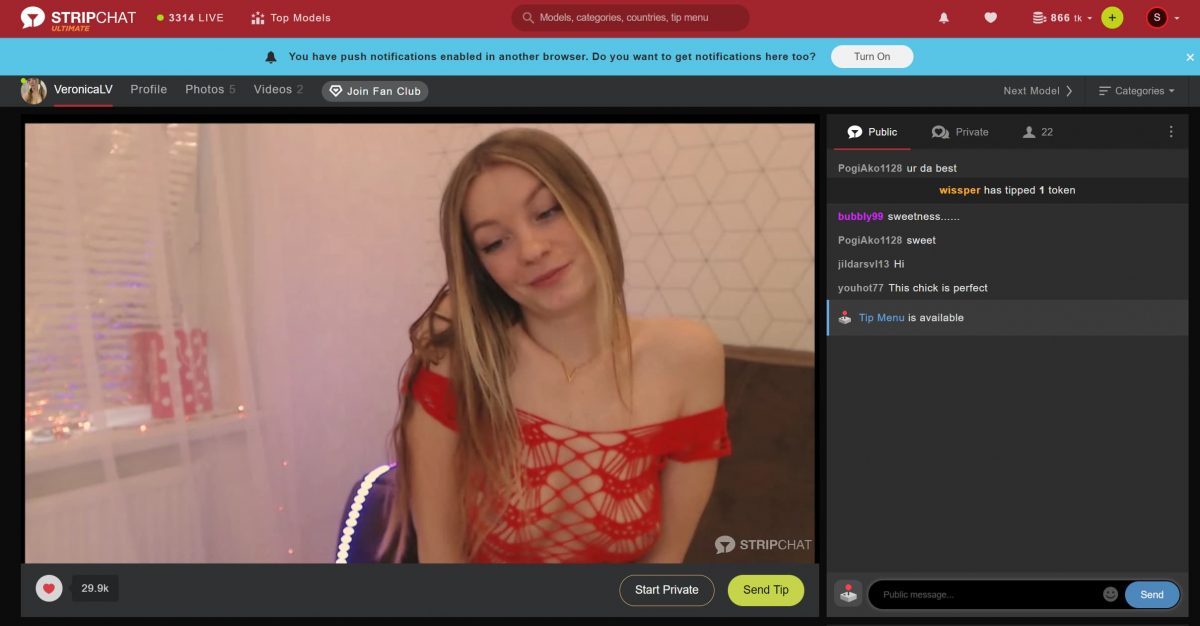 Private chat modes
Secondly, you can chat with a camgirl in a private chat session (text or audio/video cam-to-cam). You aren't obliged to switch on your webcam during a private chat.
Stripchat has two private chat modes:
"Private": This is the text chat mode of Stripchat. In this mode, your webcam and your microphone aren't activated. The camgirl can't see you. You interact with her by typing your text on a keyboard.
"Cam2cam": In this mode, your webcam and your microphone are activated. You speak out loud to the camgirl and vice versa. Usually, cam2cam chat sessions are more expensive than "private" chat sessions
Real one to one chat session
Whatever the chat mode, no other stripchat user can enter the chat room and interact with a camgirl while you are chatting with a camgirl. When you click on "private chat" button you can see: "xxx will be able to chat only with you and give you 100% attention.Nobody can see your chat."
It means no other users can bother the camgirl during a private chat session whatever the mode that you chose. It is definitely a great feature of stripchat. The shows in private are really exclusive. For your information, many adult chat websites have chat modes where a customer can enter a private chat room and interact with the camgirl even if there is already a customer in the chat room. I am not talking about a "spy" feature but the ability to chat by text with a camgirl even if somebody is already in the "private" chat room.
camgirl choice
Stripchat features many beautiful women from Russia, Romania, Ukraine and Colombia. You can also find beautiful women from all over the world. We spotted camgirls from France, German, Netherlands, Madagascar, Kenya, South-Africa, South-Korea, Vietnam. Stripchat, you can find independent and studio camgirls.
The choice is wide. You can see camgirls who connect from their kitchen and camgirls who broadcast from a studio room. Some camgirls perform from an office, but we guess it is just a stage. Some camgirls are exhibitionists. They like to show parts of their body while walking in a park or sitting at a terrace. Some women are here to chat and some women are here to perform live sex shows. Thus, Some women sit at a desk and some women have several sex toys in their vagina in their public chat room.
Click here to join Stripchat for free
Camgirls with an interactive dildo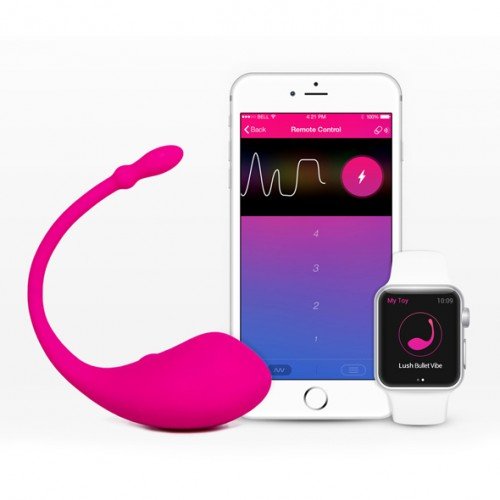 Stripchat allows users to trigger vibrations of a bluetooth sex toy by tipping camgirls. camgirls wear a pink interactive sex toy named "Lovense" which vibrates when a user tips a camgirl. Then, a user can see the reaction of the camgirl while vibrations are occurring in her vagina.
Click here to join Stripchat for free
Find a camgirl according to her willingness and characteristics
You can find a camgirl using criteria like tokens-per-minute, dildo show, interactive sex toy availability, breast size, language, ethnicity, age, sexual fetishes and sexual willingness. It is one of the best-advanced search systems that we saw online. By typing on the "all categories" button on the left sidebar, you can see all the tags of Stripchat. In the featured categories of Stripchat, we spotted: Anal, Asian, Athletic, Big ass, big tits, blonde, blowjob, brunette, curvy, deepthroat, dildo, dirty talk, Ebony, fisting, interactive toys, latina, lovense, masturbation, sex toys, shaven, small tits, squirt, striptease, teen 18+

Prices-per-minute of private chats
On average, the private chats of Stripchat can be more expensive than on Livejasmin, Imlive or camcontacts. There is a reason for it. Some Stripchat camgirls don't like private chat sessions as they think they miss tips that could have been sent in a public chat room. camgirls can't get tips from many users in a private chat session. Therefore, some Stripchat camgirls decide to set a high price per minute to compensate for the so-called shortfall related to a private chat session. However, We noticed that camgirls didn't get an amount of tokens that was below what a camgirl could earn in private.
We saw that hopefully, some camgirls set a reasonable price per minute on Stripchat. when the price-per-minute of a camgirl is 16,32,44,60 tokens, it is reasonable. It matches with the prices of Imlive and Livejasmin.
Be careful before entering a stripchat private chat. Sometimes, the model set a 10-minute minimum chat duration. This means that you are charged for a 10-minute chat as soon as you enter the private chat room. However, it is not mandatory. Not all camgirls set a minimum chat duration. So, if the price per minute is 32 tokens, you are going to be charged 320 tokens right at the beginning of the private session. That's why you should check the cam model abilities and willingness before entering a private chat. For example, check if she speaks and understands english, check if she is willing to interact with you, check if she is available. Don't hurry before starting a private chat session.
Webcam video quality
The image and audio quality is most of the time good. Since Stripchat allows you to enter any public chat rooms, you can see right away if the camgirl has an HD webcam and if the audio is good. You can also witness whether the webcam video freezes.
Some camgirls broadcast via their smartphones. If they walk in a street, the streaming video can't be as good as you can find when a camgirl connects from home. Be aware of this problem if you plan to enter the private chat of camgirl who uses a smartphone. Imagine if you would enter a private chat session of a camgirl who wants users to buy 10 minutes of chat in advance. Then, if the video freezes and voice gets choppy, you may not understand what she says and you may not see anything of her. Your money is gone!
Camgirl chat in Virtual reality
You can watch all camgirls in 2D and some camgirls in 3D using a virtual reality headset like the HTC Vive. The website also allows you to watch all camgirls in 2D through a VR kit.
List of supported Virtual reality kits: Oculus GO, Oculus Rift, HTC Vive, Gear VR, Cardboard, Daydream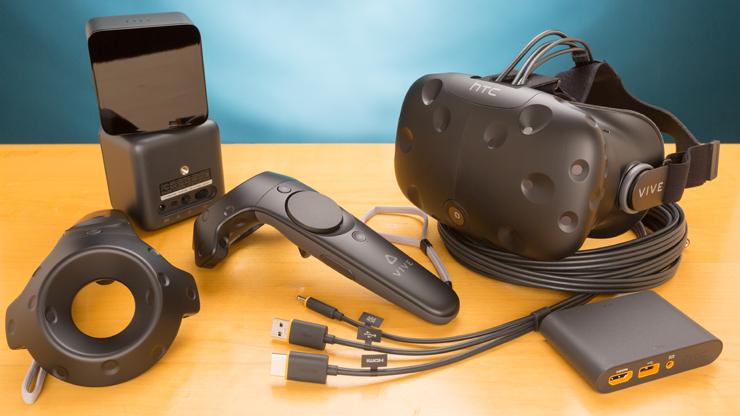 Email & push notification
After clicking on the "follow" button, a user can receive a push notification and an email notification when a favorite webcam model gets online. You can also get a push notification from your browser.
My view on stripchat
I appreciated the fact that I could see the country of origin for every camgirl. This is a feature that is usually rare. Moreover, it is good to find women from countries that we usually never see on camgirl websites. For example, I noticed that I could find women from Hungary, Germany, France, Netherlands, Madagascar, Kenya. Usually, webcam models of your local country appears at the top of your screen after your favorites.
The camgirl quality tremendously varies depending on the woman's english proficiency, her willingness, her attitude, her accessories, her webcam quality. Some women speak perfectly and understand english. Some camgirls don't speak english at all. Many stripchat camgirls come from Ukraine and Russia where the level of English is low. There is nothing you can do about it. So, When you browse the stripchat camgirls, don't focus on one camgirl. Add camgirls to your favorites and then decide. Take the time to choose a camgirl by spending time in her free chat room.
Click here to join Stripchat for free
I also appreciated seeing natural camgirls without makeup and plastic surgery. If you are looking for hot all-natural girls-next-door without too much makeup, enhanced fake lips or huge fake boobs visit stripChat. There are many women who are naturally beautiful on this website.
Great for instant live sex shows
Stripchat is one of the websites where I spotted among the most motivated camgirls for a live sex show. Most of the time, you don't have to wait for the camgirl to start a live sex show. After tipping, she indulges right away. They aren't snobbish, arrogant and lazy. Thanks to the interaction list (the list of sex shows a camgirl performs), you can get an overview of what you can get if you decide to go for a private chat. So, you are not likely to be disappointed.
Billing
It is advised to use a prepaid mastercard / visa on Stripchat to buy tokens. We never had an issue after being charged by a payment processor of Stripchat. All the payment processors are standalone. This means they don't share anything with stripchat. In other words, if you use your credit card to buy stripchat tokens, you will never see "stripchat" on your bank statement. So, stripchat is great for protecting your privacy and anonymity.
Public exhibition
Stripchat is the best website, If you are looking for beautiful public exhibitionist. Some women broadcast themselves via their smartphone showing their body in a park / street / coffee shop / bar or restaurant. They talk to the stripchat members via their smartphone. Sometimes they wear the lovense lush which vibrates when a stripchat member tips the model. The camgirl usually flashes her breasts or her vagina while she stands in a public place. Sometimes, in a live broadcast, you can tip this woman and you can see her reaction while the sex toy is vibrating in her vagina while she is in public place. Sometimes, you can watch a woman in her car playing with her pussy in a live show. So, in this case, you can see that the woman is scared of being caught by a bystander. Also, sometimes, the woman does a live sex show in her backyard or veranda.
Conclusion
In the vast majority of cases, we had a good user experience. From a technological point of view, every feature of Stripchat worked well. The audio chat works well, the free offline message system is really useful. The email notification is good as well. Most of the camgirls accepted our cam2cam requests.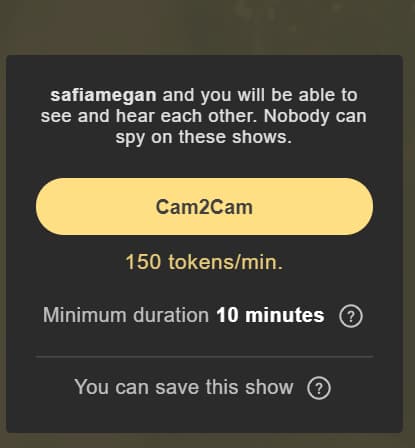 However, some camgirls are just too expensive for a private chat session. The private chat price of expensive camgirl is set at 90 tokens or 120 tokens or 150 tokens per minute which is more than $8/8 euros per minute. This price is high because these camgirls think that they are going to lose money during a private chat session. They think that members will leave their public chat room during the private chat so that no one will tip anymore when they will be back in the public chat room.
The picture on the right illustrates this issue. The camgirl or the studio set 150 tokens per minute. The minimum duration is 10 minutes. This means that as soon as you enter the private chat session, 150×10=1500 tokens are debited from your account. (more than $130 or 130 euros for 10 minutes of cam2cam.)
For your information, those camgirls can also disable private and/or cam2cam chat modes if they want it.
Hopefully, Stripchat allows you to select camgirl by tokens-per-minute of private chat on the left sidebar so that you can choose camgirls with the cheapest tokens-per-minute. As you can see below, some camgirls are much cheaper than others.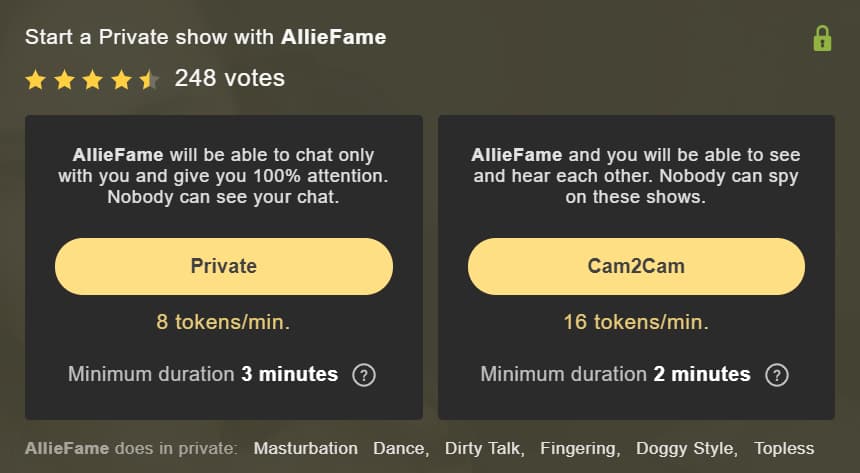 Some camgirls perform non-stop live sex shows in their public chat room on Stripchat. I have noticed that it was difficult to get in a private chat session with one of these camgirls. They don't stop their live sex show in the public chat room to come to a private chat session. This kind of camgirls may not accept your private chat request. It can be frustrating.